Blues Guitar Shuffle Performance & Tab - Big Bill Broonzy
You'll see many very great guitarists try to teach Hey Hey, and Clapton made it famous with his Unplugged cover, but it doesn't quite work. He tries to 'round it out' by adding another guitar player, Andy Fairweather Lowe, who plays exactly the same thing, but the swing is not there. It's the same with most everyone I've listened to, so what's going on?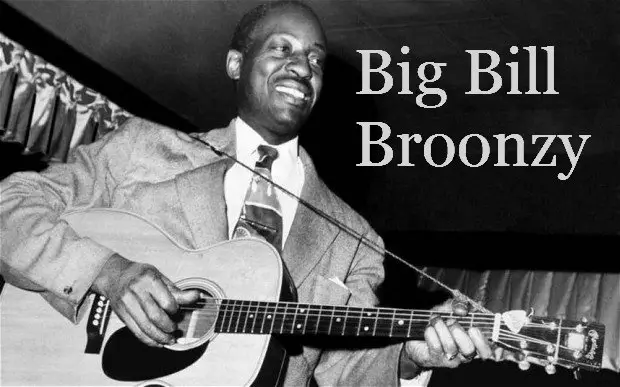 I reckon that we stick to the strict tempo too much. For example, when we pinch the bass string and a treble, both strikes arrive on the beat. When Bill pinched, the bass strike lagged just a fraction behind the beat, giving that big band swing feel. Broonzy said that playing guitar is like riding a horse - even though you're traveling along at a a particular speed, you can either sit on the front of the horse or the back, he chose to sit on the back and make it swing!
At the same time, his forefinger was forever slipping in little grace notes between the main melody. The combination of these two techniques it very appealing. He could also play thumb rolls, just like Blind Blake and the overall effect made you just want to dance! The very first I came across was 'Worried Blues' but it was played by a white English guy who didn't quite use Broonzy's famous blues guitar licks, but I was sufficiently intrigued to investigate further.
At the time, I was heavily into ragtime blues guitar and sort of disdained blues in it's basic form - something that I was to regret later on in my 'career'. Bill's music was a nice cross-over between the straight ragtime of Blind Blake, for example, and the raw style of a Son House. The interesting thing for me, after listening to some Broonzy original recordings, was that modern guitar players very often either used two guitars to try and simulate that 'big bass' sound, or added a double bass guitar, which didn't really work because the notes were mostly too low and didn't provide that 'thunk' that Broonzy' thumb made.
I decided to to commence my journey to the Holy Grail of blues - how to play Hey Hey like Big Bill Broonzy!
Interesting article about the life of Big Bill:
"Big Bill" Broonzy (1893?–1958)

aka: William Conley Lee Broonzy




Although William Lee Conley "Big Bill" Broonzy achieved fame and success in the Chicago blues scene and the folk revival in the United States and abroad, some of his earliest encounters with the blues and his earliest experiences as a performer and song writer were in Arkansas.




Sources differ as to the date and place of Big Bill Broonzy's birth. Broonzy himself claimed to have been born in Scott, Mississippi, on June 26, 1893 (though some sources say 1898). However, more recent research has him born near Lake Dick, Arkansas, on June 29, 1903, with the name Lee Conley Bradley. His parents were Frank Broonzy (Bradley) and Mittie Belcher, and he was one of seventeen children. Broonzy spent most of his childhood years in the Pine Bluff (Jefferson County) area. He began performing music at an early age, playing for social and church events on the fiddle, which he learned from his uncle, Jerry Belcher. In addition to odd jobs as a musician, Broonzy also served briefly as a pastor in the Pine Bluff area before 1918.




Between the years 1917 and 1919, Broonzy served in the U.S. Army and was stationed in Europe. After his discharge in 1919, Broonzy returned to Arkansas for a brief time, playing in clubs around the Little Rock (Pulaski County) and Pine Bluff areas. In the early 1920s, Broonzy moved to Chicago, Illinois, where he switched instruments to the guitar, taught to him by Papa Charlie Jackson, and began a prolific recording career under the Paramount, Columbia, Bluebird, Okeh, and Chess record labels. Examples of his recording career can be found on numerous compilations. The most comprehensive collection is the twelve-volume anthology of the complete works of Big Bill Broonzy, which was produced by Document Records beginning in 1994.




Influenced by musicians such as Jimmie Rodgers, Blind Blake, Son House, and Blind Lemon Jefferson, Broonzy developed an amalgamated form of the blues. By combining ragtime and hokum blues with country blues, he created a style that foreshadowed the post–World War II Chicago sound, which was later defined by such artists as Muddy Waters and Willie Dixon.




In 1938, Broonzy filled in for Robert Johnson, who had died unexpectedly, at the Spirituals to Swing Concert produced by John Hammond at Carnegie Hall. The fame achieved from this event and a follow-up concert in 1939 established Broonzy as a key figure in the Chicago blues scene. While in Chicago, Broonzy recorded more than 300 songs and remained a popular and well-respected artist throughout the 1940s. His prolific musical output is evident from his fruitful solo career and his collaborations with other artists, such as singer/guitarist Brownie McGhee.




With the rise of electric blues in the early 1950s, Broonzy became an active supporter of the folk blues genre. In 1951, Broonzy took his first tour of Europe, where he was met with enthusiasm and appreciation. His appearances in Europe introduced the blues to European audiences and were especially influential in London's emerging skiffle and rock blues scene. Broonzy's success also set the stage for later blues artists such as Sonny Boy Williamson II and Muddy Waters to play European venues. Broonzy toured Europe again in 1955 and 1957.




Broonzy's autobiography, Big Bill Blues, was published with the aid of Belgian writer Yannick Bruynoghe in 1955. Shortly after his final tour in 1957, Broonzy was diagnosed with throat and lung cancer. He continued to perform until his death on August 14, 1958, in Chicago. He is buried in the Lincoln Cemetery in Blue Island, Illinois. Broonzy was inducted into the Blues Foundation Hall of Fame in 1980.




Robbie Fry




http://www.encyclopediaofarkansas.net/encyclopedia/entry-detail.aspx?entryID=2489



BIG BILL BROONZY FINGERPICKING TECHNIQUE
The first thing I noticed was that his thumb could easily play those stumbling thumb rolls exemplified by Blake and Gary Davis, but I'm not sure he every played alternating bass, where the thumb moves rhythmically between two or more bass strings. Does that mean he couldn't manage the technique? It hardly seems possible that a guitarist of his expertise and stature could play Travis style, so we should assume that he just preferred the monotonic bass way of finger-picking the blues.
An exciting feature of this thumb work is that he sometimes 'throws' it down on those bass strings, accentuating the beginning of a bar or musical phrase. The only way I can do and make a bigger sound is to use a thick plastic thumb pick, while Bill of course just used bare skin (with a huge callous, no doubt!) It's quite difficult to use just a thumb pick and a bare finger, so most guitarists balance out the technique using a finger-pick pick on the forefinger when trying to get Broonzy's fingerstyle approach.