Blues Guitar Fingerpicking - Floyd Council - Lookin' For My Baby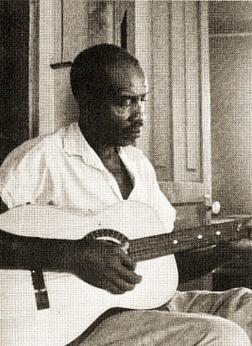 Floyd Council has long been a favorite Carolina blues man
of mine, for a variety of reasons. I don't go too much much the accepted legends like
Robert Johnson
and others (I think
Johhny Shines
was much better at what he did) and some of the minor blues such as Floyd really knock me out with their approach and style.
Of course, his playing is a lot like the heavy Piedmont
ragtime guitar picking
of
Blind Boy Fuller
, another South Carolina Man. Fuller was a student of
Reverend Gary Davis
for a while, but they fell out. Fuller moved on to commercial success with his broad ranging appeal, while Davis the
master guitarist
went on his own way making a living playing on the streets for many years.
Davis was taught in part, or at least very heavily influenced by Blind
Willie Walker
, who was renowned to be the very best in Carolina when Davis and Fuller were young men. Often, the excellence in style and technique becomes distilled the further removed the students become from the original stylist - Walker to Davis to Fuller.
Reverend Davis - The Master Of Fingerpicking Blues Guitar
No doubt Fuller was an excellent guitar picker
, but nowhere near as inventive musically as Davis - he just used the older guy's tricks to good advantage in producing commercial hits. He was a superstar of the day in those years. While we know that Fuller was under Davis' wing for a while, it's not clear where Floyd picked up his considerable
blues guitar fingerpicking
skills. It seems that a regional style developed and most
guitarists
came under it's spell to various degrees.
Piedment Acoustic Blues Guitar - A regional Style
Floyd's delivery was really like Fuller's
, so maybe they had more contact in the early years than we know, maybe before Fuller became a success. he did play second guitar to six of Fuller's tracks. It was rare for Fuller to allow himself to be accompanied by another
blues man
, so he must have rated Floyd's
guitar skills
very highly.

Very often, ragtime pickers
are always thought to use two finger and a thumb, just because the music is syncopated, rhythmic and generally more complex than say, other forms of blues picking like
Delta blues guitar
. However, many of the best players just used their forefinger to make that fascinating sound - these include
guitarists like Broonzy
, Fuller, Gary Davis, Pink Anderson and of course, Floyd Council.
These guys used different tricks to make the music move along so well, such as crossing over their thumb and finger strokes to create syncopation, and using alternating finger/thumb combinations to produce fast single string runs on the treble (or bass) strings.
The bass pattern was more or less alternating using the thumb, but the best players toyed with this pattern considerably and were able to break out of it anytime, either using the thumb for the treble strings, double timing the basses or perhaps stop timing as well. The
master blues men
could do these things. Not only could they do these things, but they invented them, so we owe them a lot.