Welcome - Jim Bruce Acoustic Guitar Lessons
It's difficult to adequately define the blues in general, even when we narrow the genre down to just
'guitar'
. Within the category of 'blues guitar', there are many other sub categories (once we separate electric from acoustic.)
In the States, variations of style appeared depending on the region, which also depended on the local influences of the leading musicians in that area.
Broadly speaking, we could say that the two extremes of early
acoustic blues guitar
are the sombre tones of the
delta blues
and the happy dance sounds of Piedmont style
ragtime
blues. Of course, there are other important styles between these two examples. We need to explore all styles when we decide to learn
how to play the blues
.
Delta Blues
Just one step up from the field holler, basic bottleneck delta blues style is like a tortuous cry from the soul. Maybe this style developed first, as it reduced the need to use many chords.

Often, the guitars were tuned down - to G, D and sometimes C. For sure, it produces a plaintive sound when done properly, and some exponents such as Johnny Shines, Muddy Waters and Robert Johnson used this way of playing to great effect.
It may also be that a a tuned down guitar was easier to keep in tune in the humid swelter of the Mississippi, where this blues music was born.

One famous delta blues artist was anything but delicate in his technique, but the power and emotion of Son House ensures him a place at the head of the blues table when listing the masters we need to study when wanting to learn how to play blues.
The search for technical complexity can become the Holy Grail for guitarists, but it's a mistake. Few guitarists can match the power of the old blues masters, simply because the basic techniques are not sold enough.

There are no short cuts to the power of the blues. Listen to the bass lines of guitarists like Gary Davis, Big Bill Broonzy and Lightnin Hopkins. Hopkins could play just one bass note and send a shiver up your spine. It isn't the complex technique tha makes the blues, but the feeling and power behind it.


Other Styles Of

Playing The Blues
Generally, artists tended to stick within their own regional style, sometimes adding songs in other styles to 'round out' their repertoire and keep audiences interested. Some guitarists, however, crossed all the boundaries and could pretty much play any style, such as Reverend Gary Davis and Big Bill Broonzy.
The Reverend was taught in part by Willie Walker, an incredibly fast and accurate ragtime guitarists from Carolina. Gary Davis could play in any key and in any style, but favored Gospel guitar in his later years.
Broonzy came from the South, but ended up as a celebrity 'rock star' in Chicago, where he developed a particular style of
swinging blues
characterized by his monotonic thumb action on the bass strings. He was also very fast and accurate, and very few modern day players can copy his technique effectively. Some of his pieces tended towards ragtime and he could also incorporate pop songs from the 'tin pan alley' of his day.
Towards Ragtime Blues Guitar
Ragtime blues could be considered to be the more complex technique within the genre 'acoustic blues guitar'. The music of Lightnin' Hopkins was definitely bluesy and often appeared in the keys of E and A. In fact, many of his pieces in the same key were very similar. However, his ability to up-beat the temp and mix techniques places him in a class of his own - acoustic Texas Blues. He can't be glossed over in our study, if we seriously want to learn blues guitar.
It's interesting that some great talent who could really play blues also came out of Carolina, such as Pink Anderson, Floyd Council and Scrapper Blackwell. Pink was a fast ragtimey player and honed his craft playing behind the good Doctor Kerr in a traveling medicine show.
Floyd Council made few records in his own right, but can be heard backing Blind Boy Fuller on several tracks cut in 1940s. Their styles were very similar. He was known as the 'Devil's Daddy In-Law', but it's not certain why that is.
Scrapper Blackwell was an extremely influential artists who produced several blues guitar classic, such as 'Blues Before Sunrise, Nobody Know You When You're Down And Out' and 'Kokomo Blues'. The latter was taken by Robert Johnson, who re-worked it and called it Sweet Home Chicago.
In passing, it's worth mentioning that a separate branch of picking developed called 'Travis' picking (after Merle Travis), which has a ragtime feel and muted alternating bass lines. Doc Watson shows us how to
play the blues
in this style in his great classic song 'Deep River Blues.)
Ragtime Blues Guitar
Reverend Gary Davis was an exponent of ragtime guitar par excellence. He played a Gibson J200 guitar, which had a prodigious sound when played with finger picks, as davis did.

Rev Gary Davis was a giant of ragtime guitar, but there were other very notable exponents of this wonderfully complex style of playing guitar.
Blind Wille McTell played syncopated rhythms on a 12 string guitar, creating classics such as 'Statesboro Blues'. Blind Boy Fuller was perhaps the most commercially successful of the ragtime players, and his style was heavily influenced by Gary Davis, who taught him in his early years.
Blind Blake cut over 100 sides for Paramount and was very prolific. His complex technique was characterized by a complicated double-thumb beat syncopation, rapid triplets executed by his fingers and lightning fast single strings runs.

Robert Johnson - Birth Of A Blues Legend
Many folks like Clapton, have a strong desire to actually be R. Johnson
. Of course its weird, but I totally commiserate with this obsession that grabs some people on the subject of RJ, his songs and his revered position in the blues hierarchy.
I think it isn't much use attempting to copy somebody totally, but I concede that it can be amazing fun coming to terms with Johnson's guitar playing style. I doubt that he would have been hel in such high regard if he had lived to a ripe old age, but that's not what legends do, after all! The reaility may be that legends just don't exist, they are only people that other folks have a need to raise up onto a pedestal - its a human thing.
Without a doubt, Johnson's viscereal approach
and his talent on acoustic blues guitar was incredibly appealing, and has driven many guitarists since he passed on. It appeared as if he could sings the words to his songs without regard to the guitar picking rhythm . Let me explain further.
Usually a guitar player picks a pattern that may or may not be complicated when he's not singing the words - he then makes an opening so that he can sing over the top of it. It's the accepted way and its what I've done for years. During the singing, the picking pattern reduces in intricacy, as the focus is shared between picking and singing.With Johnson, it appears he could begin or pause singing whenever he liked, never mind what he was playing on guitar - it's a great way to perform and only experts like Big Bill Broonzy an others could do it.

A few blues affcianados have re-worked the old material
and realized that the speed of teh old 78s were speeded up quite a bit, which means we hear him sing at a pitch higher than he actually did, and also quicker than he really performed! This makes a big difference to the music - slowing down the 78s and lowering the pitch gives a sound which reminds me of
Son House
. This is logical, as the younger RJ followed House around and obviously copied some of his finger picking patterns.
Johnson's 6 recorded songs
( there are no instrumentals) can be arranged into distinct keys and patterns , mostly open G tuning, dropped bass D tuning and regular.The works in a certain key were almost identical, and this is common for most guitar players. It's sometimes hard to keep some innovation in our picking styles, because muscle memory habits and our own point of view create the same arrangements of notes in each key.
In the early blues days it was vital to develop a wide range of songs - in this way your listening public would keep interested and you might suit eveyone's tastes more easily - the audience probably had the odd request as well , so it payed to know some traditonal and popular material. Johnson could play songs from 'Tin Pan Alley' . His rendition of 'Red Hot', played in C, was a whimsical alternative to the intensity displayed in most of his work.
Robert Johnson Original and Originality
I don't think that Johnson was very original. A lot of his work was fundamentally traditional material re-hashed. Powerful songs such as 'Crossroads' were simply another version of the standard 'Walkin' Blues', a song which was played by Muddy Waters and others. 'Come On In My Kitchen', also a bottleneck song in open G, was little more than an open version of 'Sittin On Top Of The World'.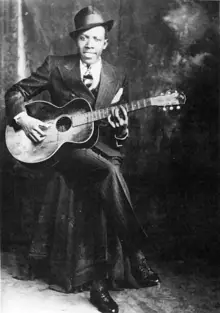 Johnson's work in A did create many original patterns
not seen in similar blues songs, so in a way he was somewhat of an original. One of his most celebrated songs 'Sweet Home Chicago', was copied from 'Kokomo Blues' created by Scrapper Blackwell.
Robert Johnsons Ginger Picking Technique
It may be that the two examples of Johnson's blues style would be Son House & Johnny Shines. Son's swash buckling finger picking technique was not at all like Johnson's sometimes delicate finger work, but a lot of the patterns are almost identical.
A traveling buddy of Johnson's, Johnny Shines lived and played into the late sixties and his technique gives some indication of how Johnson played guitar. Find 'Johnny Shines Sweet Chicago' and you'll see a fantastic Youtube video featuring Johnny's hands quite close, and its possible that Johnson played in just the same way.
Big Bill Broonzy - The King Of Chicago Swing Blues Guitar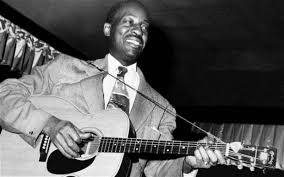 Most people remember Bill as a kind of acoustic blues folk artist
, a personna he developed intentionally to make a living in his later years. However, many years before he was the powerhouse behind a particular king of acoustic blues that had that undefinable 'swing', a style that was envied and copied by many. He was the forerunner of electric Chicago blues, something which big bill never got into.
Although lost to the new blues scene for many years, he was later engaged to play at a New york festival in placd of Robert Johnson, who the organizers found had died! Bill stood in front of an audience of thousands with just an acoustic guitar and completely blues them away!
The story goes that Bill came from the South,
where he was a farm worker and was even married. He played some fiddle and often played for parties and such, but had no pretention to becoming a professional. It seems his wife commited him to play one night becaise they needed the money, and he was off.
It's not clear what happened to take him up to Chicago, but this is where he developed his famous picking style. It's hard making a living as a guitarist in abig city, and Bill would play with many different bands and trios throughout his working week.
When asked about his guitar picking style, he said
"When you play you can sit on the front of the hoss and pcik in front of the beat, or on the back of the hoss, behind the beat. Pickin' behind the beat makes the music swing - that's all!"