'That'll Never Happen No More' by Blind Arthur Blake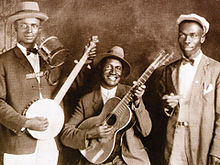 Blind Blake Traditional Ragtime String Band
Blake was born in eighteen ninety three, in Jacksonville, Florida and disappeared (assumed dead) about nineteen thirty one) He made over a hundred recordings and was a foremost blues singer and ragtime blues guitar player. He is often called "The King of Ragtime Blues Guitar", due to his very fast and accurate syncopated picking style.

He was an expert player of the style and had a very broad range. He is best remembered for his syncopated guitar technique that copied the ragtime piano popular at that time. Its often said that the old blues guitar players tried to copy piano sounds, and that electric players attempted to sound like a saxophone.
Blake's repertoire included three kinds of songs or tunes, all with slight variations within each category.
The Key Of C


His first recordings were
West Coast Blues
, and instrumental, with
Early Morning Blues
on the 'B' side. Played in C, West Coast Blues is a magnificent work and set the scene for many similar instrumentals in this key. Inevitably, most of the resulting songs sounded much the same, with minor variations. Blake set the bar so high, that it was difficult for even he to surpass his initial recordings.
West Coast Blues incorporated many of Blake's signature moves, such as a strong syncopated bass pattern using a 'rolling' thumb action, fast triplets with his picking fingers and lightning fast single string runs.
Open D


One of his most celebrated songs is
Police Dog Blues
, played in Open D. Very slick and almost impossible to play at the correct speed, this songs represented the basic structure for all of his songs in this key.
The Key Of G


That'll Never Happen No More is a great introduction to Blake's songs in G, as it is quite slow and doesn't use his rolling thumb technique extensively. However, it does included another foremost Blake trick, a complex run down using fingers and thumb for the chord progression G - G7 - C - Eb7 during the instrumental break.