Let Me Show You How To Play Exactly Like the Original Blues Men

Starting With This FREE Robert Johnson Lesson - 'Love In Vain'
This video will show you ALL you need to know
to play a typical Robert Johnson blues in A


Here's what you will learn in this 20 minute video lesson download:

The essential monotonic thumb beat
Chord structure and progressions
Slow-mo demos - finger picking Delta blues
Putting together instrumental breaks RJ style
Using on-screen tablature for quick learning
Tips on singing - get that real 'bluesy' feeling
Special Bonus
:
I'll also send you a 7 part mini video course direct to your mailbox - here's what the videos contain:
Basic Fingerpicking - bare finger or finger picks? Advantages and disavantages of both
Blues in A - techniques and tips for another very popular key
Dropped D and open D - how to pick with a slightly different flavor and style
Blues in E - one way of finger picking in this basic, almost definitive key for playing Delta blues
Open G - how to tune to open G and using the bottleneck properly
The Thumb Is King - Thumb control is essential for playing great acoustic blues guitar
On To Ragtime - the alternating bass and typical chord progressions

All of my video lessons give complete and detailed instruction showing how to
play acoustic blues in the old style - keeping it real!

I started producing lessons after someone asked me how I performed a certain technique. As I was explaining, and trying to slow it down, I realized that I was doing things that I wasn't really aware of, but gave the music a very real and old flavor.
This prompted me to go back to the great classic blues artists such as Blind Blake, Robert Johnson, Big Bill Broonzy and Lightnin' Hopkins and ask the question '
What do students really need to be able to play acoustic blues in the old style?
'
These video lessons are packed with tips about the techniques used by most of the major blues men, advice on tuning, singing and introducing musical breaks. You
will
learn to play old style blues with this course - I
guarantee
it.
Check out some videos in the playlist below and you'll get an idea of my teaching style and method. A list of the lessons included in my 36 lesson pack (order at the bottom of the page) are
included underneath the playlist - if you have questions, you can
email me here
.
A Selection Of Video Previews From The 36 Lesson Course

Click Playlist Bar At The Bottom To See Titles, or Watch Them All! (9 videos - play time 48 mins)
Lesson List:

Baby Please Don't Go
Blues Day Blues
Blues Before Sunrise
Careless Love
CC & O Blues
Come On Boys
Crossroads
Diddie Wah Diddie
Down and Out
Down The Country
Dupree Blues
Glory Of Love
Hey Hey
Key To The Highway
Kokomo Blues
Livin' With The Blues
Love in Vain
Woman Called Mary
Me and The Devil
Mobile Texas Line
Police Dog Blues
Poor And Ain't Got A Dime
Reap What You Sow
Satisfied/Pallet On The Floor
South Carolina Rag
Statesboro' Blues
That'll Never Happen No More
Tootie Blues
Too Tight Blues
Truckin' Little Baby
Untrue Blues
Walkin' Blues
Weeping Willow
West Coast Blues
Worryin' You Off My Mind

Lightnin' Hopkins
Scrapper Blackwell
Scrapper Blackwell
Blind Boy Fuller
Pink Anderson
Blind Blake
Robert Johnson
Blind Blake
Scrapper Blackwell
Blind Blake
Willie Walker
Big Bill Broonzy
Big Bill Broonzy
Big Bill Broonzy
Scrapper Blackwell
Brownie McGhee
Robert Johnson
Lightnin Hopkins
Robert Johnson
Leroy Carr
Blind Blake
Floyd Council
Mance Lipscomb
Mississippi John Hurt
Willie Walker
Blind Wille McTell
Blind Blake
Blind Blake
Blind Blake
Blind Boy Fuller
Blind Boy Fuller
Robert Johnson
Blind Boy Fuller
Blind Blake
Big Bill Broonzy
See what some other guitarists are saying about this video instruction ...

Learning How To Play Blues Guitar With The Jim Bruce 36 Lesson Pack:



Dear Jim,

.. I just wanted to write and tell you my thoughts on your product ...
... it is

better than any

of the you tube blues guitar lessons that are teasers for professional DVDs that I've seen (and this includes some of the major finger style products.)

I find that your
method, thoroughness, quality, and personable style
not to mention the sheer bulk of songs make your package
incredible value
.
Robert J, George, Tx, USA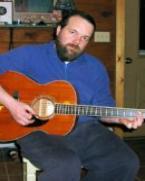 "Jim's

clear, concise, and focused

teaching style breaks down the most complicated musical passages into bite size pieces that are

accessible to all players

...

his teaching has changed the way I play blues guitar!"
C.S. (Blue In Vermont)
Vergennes, Vermont, USA
I am very pleased with this tuition. Your

way of presenting them is second to none


(have used a number of sites and yours is definitely the best). Also your material is
exactly what I like as

Real Blues

Guitar.

Even for Baby Please Don't Go, which I had learned a few years ago with a private teacher,
your version has brought me other swinging tips which I will remain grateful for.

Thanks again for all this and the stuff to come

Brgds, Gilles Renier



" Jim Bruce adds
new dimensions to those beautiful old blues
and rag songs and makes lessons easily accessable as
downloads, with chords, tabs and easy to understand video
and instruction from the master himself. "

Allan Schrattenholz , Nykøbing Falster, Denmark
Hi Jim,

Thanks again for the

great video lessons

. I believe that I purchased your most complete collection of blues song lessons. Are you planning to introduce anything else in the near future?

I love your lessons

; you've deciphered some very complicated and difficult pieces. We could never figure this out on our own. I've always dreamed of being able to accurately play these roots or classic songs.

I can't thank you enough.



Sincerely,
Scott Courts



"Jim Bruce is one of those rare individuals whose talent for playing genuine old-time guitar is matched only by his gift for conveying that knowledge to others."

(Pasha is pictured at the grave of Big Bill Broonzy in South Chicago)
Pasha Saleh
Potomac, Maryland, USA


"Jim's lessons are very easy to follow. The content and choice of songs is great! "

" I think your lessons are

well produced, good value

and along with being an excellent blues guitar player you seem to have a

natural teaching ability

"
Peter Smith, UK
A few videos sent to me by students:

11 hours of detailed tuition

- downloads, online access

and

disk (Windows or Mac)

Separate tablature files

for printing out
BONUS GIFT #1

Jim's MP3 album

'Metro'.




BONUS GIFT #2

Acoustic Blues Travellers MP3 album

'Wake Up, Walk Out.'



' I have many emails from happy students who are now able to access these classic acoustic blues picking styles, and I'm very pleased that so many people find this tuition rewarding. I'm inviting you to discover the real blues and learn how to finger pick blues guitar.'