Let Me Show You How To Play Exactly Like the Original Blues Men ...
... and take advantage of this limited time MOBILE offer - Was $79.95 Now $55!
That's right - the complete 36 video lesson course including online access and data-disk (over 11 hours of detailed tuition) for just $55!

Enjoy the offer while it lasts!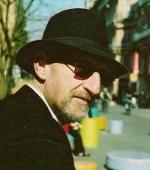 I started producing lessons after someone asked me
how I performed a certain technique. As I was explaining, and trying to slow it down, I realized that I was doing things that I wasn't really aware of, but gave the music a very real and old flavor.
This prompted me to go back to the great classic blues artists such as Blind Blake, Robert Johnson, Big Bill Broonzy and Lightnin' Hopkins and ask the question ...
'What do students really need to be able to play acoustic blues in the old style?'

My video lessons are packed with tips about the finger picking techniques used by most of the major blues men, advice on tuning, singing and introducing musical breaks.
You will learn to play old style blues with this course - I guarantee it.

Check out some videos in the playlist below and you'll get an idea of my teaching style and method. A list of the lessons included in my 36 lesson pack (order at the bottom of the page) are included underneath the playlist - if you have questions, you can
mail me here
.
A few videos sent to me by students:





Lesson List

Baby Please Don't Go
Blues Day Blues
Blues Before Sunrise
Careless Love
CC & O Blues
Come On Boys
Crossroads
Diddie Wah Diddie
Down and Out
Down The Country
Dupree Blues
Glory Of Love
Hey Hey
Key To The Highway
Kokomo Blues
Livin' With The Blues
Love in Vain
Woman Called Mary
Me and The Devil
Mobile Texas Line
Police Dog Blues
Poor And Ain't Got A Dime
Reap What You Sow
Satisfied/Pallet On The Floor
South Carolina Rag
Statesboro' Blues
That'll Never Happen No More
Tootie Blues
Too Tight Blues
Truckin' Little Baby
Untrue Blues
Walkin' Blues
Weeping Willow
West Coast Blues
Worryin' You Off My Mind

Artists Covered

Lightnin' Hopkins
Scrapper Blackwell
Scrapper Blackwell
Blind Boy Fuller
Pink Anderson
Blind Blake
Robert Johnson
Blind Blake
Scrapper Blackwell
Blind Blake
Willie Walker
Big Bill Broonzy
Big Bill Broonzy
Big Bill Broonzy
Scrapper Blackwell
Brownie McGhee
Robert Johnson
Lightnin Hopkins
Robert Johnson
Leroy Carr
Blind Blake
Floyd Council
Mance Lipscomb
Mississippi John Hurt
Willie Walker
Blind Wille McTell
Blind Blake
Blind Blake
Blind Blake
Blind Boy Fuller
Blind Boy Fuller
Robert Johnson
Blind Boy Fuller
Blind Blake
Big Bill Broonzy