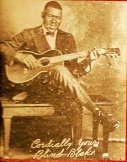 "Blind" Blake (born Arthur Blake or Arthur Phelps,
around 1893, Jacksonville, Florida; died: 1933) was a prolific ragtime blues singer and guitarist. He is known "The King of Ragtime Guitar".
He put out around 80 songs for Paramount from 1926 to 1932. He was an accomplished guitarists of his style with a astonishingly diverse repertoire. He is well known for his rhythmic guitar sound that sounded like ragtime piano.
Unfortunately, here is only one photograph of him existing.

Not a lot is known about Blake. His place of birth is shown as Jacksonville, Florida by Paramount but that its not certain.

On one song he lapses into a Geechee way of speaking, which could lead us that he was from the coastal region of Georgia.

Nothing is known of the circumstances surrounding his death and we are not even sure of his correct name. According to some, his proper name was Arthur Phelps, although there is no real, written evidence of this.
The "Phelps" name probably came about after he responded to Blind Willie McTell in a conversation in 1955 in Atlanta, where Blake was never reported to have frequented; neither did Willie McTell ever live in or near Chicago.

However, many of Blake's tracks were copyrighted by the name 'Arthur Blake', and during his recording with Papa Charlie Jackson, "Papa Charlie and Blind Blake Talk About It", the following words are clearly heard:
Jim Bruce performs the rhythmic finger picking picking
pattern of Blake's ragtime guitar in 'Southern Rag'.