How To Perform Blues Guitar In Public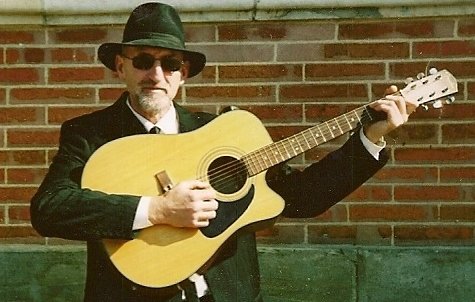 According to many surveys carried out amongst Americans, the greatest fear is of performing in front of an audience
- even greater than the fear of illness or death!
Right from the get-go, as they say, the first of the many problems associated with entertaining people has the power to stop us in our tracks.
 What can be done to overcome this fear?
While it's true that it becomes easier over time
, the first few times are most crucial and we have to be prepared to be, well - humiliated, basically. It's very easy to freeze and do nothing until the silence stretches into long, long seconds. When we do start, we obviously don't give our best, so what can be done?
The Front End Of Blues Guitar
If you try to joke, and it doesn't work,
it becomes worse than ever. Perhaps the best thing is to just get on with what it is you're going to do. In my case I needed to start
playing acoustic guitar
in public.
No amount of acoustic guitar lessons can give you the balls you need to get up there for the first time (not that I had any lessons.) I tried to overcome my initial fear with outright bravado, introducing myself as Bob Dylan, as I was going to play Don't Think Twice in fingerpicking guitar style.


Things To Learn About Fingerpicking Blues Guitar
One of the first things I learned was that fingerpicking guitar
for the first time in public should be very, very basic and it's best to strum the first few songs. When we are very nervous, our motor skills are severely impaired and
finger picking guitar
can turn into a mess very quickly, as I discovered.
Luckily, my first attempt at entertaining the great public was at an old style folk club in UK. In the 60s and 70s there were hundreds of them and normally one in every village and town. Great places for youngsters to hone their craft as the audiences are very friendly and kind, offering applause and support.

As your confidence and skill develop, it's tempting to try and play complex guitar arrangements
, but beware! Firstly, if a complex piece is not played very well, it just doesn't work. Secondly, after a couple of expertly played
complicated guitar pieces
, people get bored - audiences want to be warmly entertained and not sit and watch someone showing off.
Basically, a balance is needed between skill and basic likeability. My own specialism is
acoustic blues guitar
, and in the early years I played almost nothing but ragtime guitar.
What Makes A Good Blues Guitar Performance?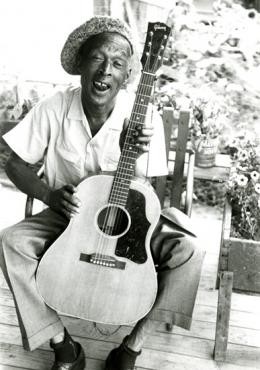 So what makes a good performance? Audience communication and a balanced repertoire performed with confidence are a couple of things that come to mind.
People would much rather hear a basic blues song
played with emotion and confidence that an attempt at a complicated ragtime piece when it's obvious that the
guitarist
is struggling at the upper edge of his skill level. This is just another one of those things that acoustic
blues guitar lessons
can't teach you. It has to be learned by experience.

I once performed as second act to an old TV performer named Johnny Silvo
, whose career spanned decades - I was just 26 at the time and asked him for advice:
In front of an audience, a guitarist generally can perform competently at around 80% of his private skill level.
Keep within that skill level and keep confidence in what you are playing.
Start a song strongly and finish it strongly.
Don't bore them. Introduce a lot of diverse songs into your repertoire and save an exciting one 'till the end.
Most importantly - remember, if you get the audience to like you they will forgive you anything and you could just about play anything you like.
Interesting stuff, and for sure I have included some elements of this during my career.
For me, playing blues guitar on the street has helped a great deal.
First of all, it is a great way to practice in front of people who are not really listening
. Even this is the case, the very fact that there are people around lifts our playing. Once we become very confident in
playing guitar
, it starts to become automatic, which means we can concentrate on other aspects of our performance, such as presentation, improve our singing or introduce a few jokes - you get the picture.
Author: Jim Bruce 
Date: 2014-05-10
Category: Music