How To Play Acoustic Blues Guitar - The Jim Bruce Interview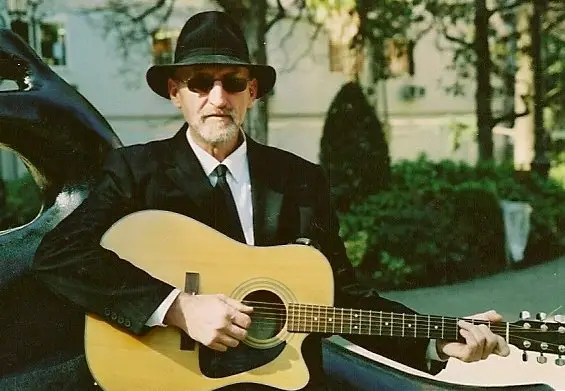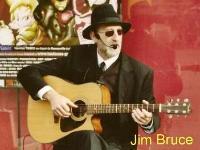 Very few players have perfected finger picking blues guitar quite like Jim Bruce. His timing and approach are 'just right'. Born in UK, Jim has moved around the world, living and playing in France, America, Denmark and Germany. He is one of the few expert guitar players who is additionally a gifted teacher.
Jim was good enough to give 'Down Home Blues Guitar' an interview.
DHBG: Fingerstyle blues isn't for everyone. What made you want to learn how to play blues guitar?
JB: After playing finger style folk up to around 1973, I heard someone in a club in the north of UK perform Kat's Rag. It was pretty easy in comparison to some of the songs I could play, but there was this really appealing syncopation to it. Just after moving to London, I bought some classic Biograph Blind Blake albums and hid myself away for six hours every day, for over a year, until I could play the stuff! I guess that it's always been the great challenge that appeals to me.
DHBG: What made you start playing acoustic blues guitar?
JB: When I was a kid I heard Dylan performing Times They Are a-Changin' on the wireless. I bought the LP of the same name and heard Don't Think Twice in finger picking style. I was fascinated – this was exactly what I wanted to play. Don't Think Twice was the first finger picking piece I ever taught myself. I could never strum at all, and I can't really do it very well now!
DHGB: Your style is straight blues guitar with a Blind Lemon feel. Who were your influences?
JB: I played just complex ragtime guitar for some years – Blind Blake and Scott Joplin rags mostly. I never looked at messing with delta blues guitar blues in E or A - I thought they were not challeging enough.
As you might guess, later on I knew I had been wrong. I saw some video featuring Lightnin' Hopkins who really didn't play anything at all complicated, but the style and the delivery was absolutely awesome. Perhaps we need time to wise up about these things. As a kid, I only wanted to show off. How do you learn to play acoustic blues guitar like that?

It doesn't matter how well we might play, very few people match up to the blues legends. Mind you, we can blend those techniques into our own style and tip our hats to the greats, such as Blake, Blind Boy Fuller, Mance Liscomb, Lightnin' Hopkins, Floyd Council, Reverend Gary Davis, Scrapper Blackwell and others.
DHGB: Do you remember the worst gig you ever played?
JB That's a difficult one – there were a lot! I remember playing on the London subway for hours making very little money. I do play on the street nowadays, because it's in the tradition of the blues, but back then I need to be noticed, not just ignored. It also enjoyed eating, once in a while!
The worst gigs were usually in noisy bars, where no-one takes any notice at all. Luckily, I don't have to play these places now – I can mostly choose where I perform.
Strangely enough when I was a young man, the worst booking was also one of the best. I started to play one night and the club owner didn't like it at all – he thought he had booked Country. It was usual in UK at that time to pay performers if you didn't want them, so I got my money and had a great evening somewhere else!
DHBG: How many guitars have you got and what are they?
JB: I change guitars very often. I play hard, and I've never thought that an really expensive instruments makes you play any better. Sometimes, when I'm out playing, someone might say 'That's a great sound – what's the make of the guitar?' It doesn't matter that much – a better guitar only makes it a bit easier for the player, that's all really. At this time I use a Vintage VE300 Parlor guitar, with pre-amp and tuner for playing on the street, a Johnny Joyce Aria, which I was given 35 years ago, and a small bodied Martin 000X1


DHBG:
What tips for players who would like to know how to play acoustic blues guitar?
JB First of all, take it slowly. Pay attention to the basic patterns, like the alternating thumb and keep playing them until you can do it while you sleep! Build on a strong foundation and slowly increase the difficulty of the songs you take on. It's a gradual road learning how to play blues guitar and the best guitar lessons show you the most effective path.


Guitarists progress in steps, now and again leveling off at a plateau of expertise for a little while before passing through to a higher one. Play for an hour every morning, no matter what happens, and then again for an hour in the evening. Don't try to make time for it, just do it fit other activities around it. If you need to get up earlier, or you get to bed later, then that's what you have to do.