Stella Guitars - An Essential Ingredient For Playing Blues Music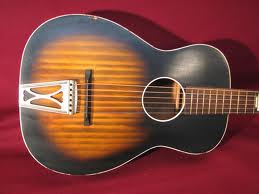 Stella was a brand of guitars owned and operated by the Oscar Schmidt Company and was founded around 1899. The company produced low to mid level stringed instruments.
The Stella guitar was great for playing blues music, and were played by several notable artists including Leadbelly and Charlie Patton. Doc Watson began playing on a Stella guitar.

Kurt Cobain of Nirvana played an acoustic Stella guitar
on the recording of the song Polly from the Nevermind album. Stella was acquired by the Harmony Company in nineteen thirty nine, and the brand was dissolved in the 70s. It has since been reintroduced by M.B.T. International, which now owns the Harmony company.
The example below features an MP3 of a
pre-war Stella
played in the open tuning slide style:
Stella Harmony Blues Guitar Slide.mp3
Article I found about Stella instruments:




We all have had them and we all love them. The number of baby boomers who started guitar lessons on a Harmony student guitar was great. They were affordable and quite playable. The student guitars made by the Harmony Guitar Co. of Chicago were readily available to the masses.




Most music stores carried them along with a whole assortment of mail order catalogues. Sears, who owned the Harmony Company, made these guitars available to their customers under the Silvertone Label.




Most of the guitars I see appear to be from the sixties. Mainly because of the guitar boom during the Beatles generation, there were a large number of guitars sold at this time.

Harmony made more than one half of all the guitars made in this county, more than all the other manufactures together. Most of these were the flat top acoustics.

Many a beginner started with a sunburst Stella by Harmony. Harmony bought the Stella name in 1939 and continued to make them as a low-end student guitar.

Using the Stella registered trademark, they marketed these student guitars for the masses. These small body guitars still show up from time to time. Most have a floating wood bridge with the pressed metal tailpiece.

Some of the older ones have a piece of metal fret like material for a saddle. I have seen some student guitars with a wood tailpiece from the 40's when metal was a scarce commodity.

Many Harmonys I've seen incorporate an Hxxx in the serial number. Dating them seems to be a little more complicated. Some seem to have an F-66, FW-59 or similar number stamped inside the guitar, along with "Made in the USA."




This number appears to indicate the year of manufacture, but doesn't appear all the time. It confirmed the dating of some guitars I have, with what I surmised to be their date of production.




Most of the model numbers in the later 60's have this Hxxx. These H929 Stella models have been seen with both 3 x 3 tuners along with a H933 that had 6 on side headstocks.




These guitars were most commonly sunburst. There was natural model, an H927 during the 60's, along with a tenor HTCG929 and a smaller size H9293/4.




I have seen some "bananaburst" or Ivory grained finish on some Stellas from the 40's and 50's, which seem to be a No.928 model of the early 60's. Other models from the early 60's were a No. 1141 and No, 930.




These earlier models don't seem to have the "H" in the model number. The model number didn't matter because they marketed an assortment of 6 guitars for $ 144 in 1962.




At $ 24 a guitar it gave the young student an affordable option. In the late 60's there was a better quality Stella offered by Harmony. This H942 natural (H943 Sunburst) grand concert size guitar offered "time-tested Stella features of construction and finish," and sold for $ 37.50.




With its " Steel Reinforced neck" and "Simulated marquetry ring at soundhole, it was an attractive upgrade to the H929 Stella, with the added feature of a screwed down bridge.




Some of the other budget small guitars have a screwed down rectangular bridge, with many of the older ones being made with solid wood. (You can usually tell by the cracks when they dry out.) Some of the H150's and the classical H937s were called the Harmony Studio Specials.

These were noted as being "Best for the beginners or 'loaner' Guitar. " They had a short 3/4 scale with less space between the frets that made finger placement and chord formation easier for little fingers.

"Perfection," was Harmonys goal, through out its history. Its claim to have sold "more stringed instruments than all other makers in America Combined- and thus created thousands of friends for Harmony all over the world," held true.

They found their way into more American Homes than any other guitar company. They made themselves available to the masses so the student had an affordable option. They are still available today as one of the more affordable American Vintage Guitars. Start collecting today!!

Article Source: http://rothmans_guitars.tripod.com/rothguitar/id10.html
An Original Stella Blues Guitar From The Oscar Schmidt Company Of Chicago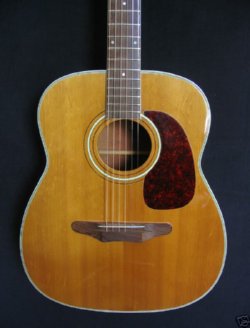 Stella was one of several musical instrument brands made in Jersey City, New Jersey by the Oscar Schmidt Company. Other Schmidt brands include Sovereign and La Scala.
The Oscar Schmidt Company also produced low quality level stringed instruments such as guitars, mandolins, banjos and auto harps.

The company thrived during the first quarter of the 20th century, producing many thousands of Stella guitars, mandolins and banjos.
In nineteen twenty, the Oscar Schmidt Company was said to be the largest manufacturer of stringed instruments in the world. Stella guitars were noted for both their good tone and their relatively low price.

The fanciest Stella and Sovereign guitars
carried a price tag that was just a fraction of the price of even the cheapest Gibson or Martin instrument. It was an excellent blues guitar for a much smaller price.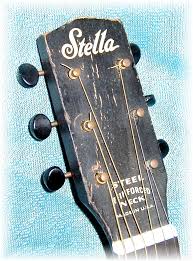 Although they continued making auto harps, after struggling through the Great Depression, the Oscar Schmidt Company finally had to sell off their fretted instruments division in the late 30s.

Schmidt's Stella, Sovereign and La Scala brands were acquired by the Harmony Company of Chicago, Illinois in nineteen thirty nine, who went on to produce student grade Stella guitars as well as mid-level Sovereign guitars and banjos.
Stella Guitars & The Blues
Quite a few of the pre-war blues guys used Stellas, basically because they were cheap and well-built to stand the rigors of taking to the road after each gig.
They were cheap as chips and could be bought at a distance thanks to the Sears catalogue - well before 'race records' brought some money their way, the original blues men didn't have money to throw around on expensive guitars.
Pink Anderson played a Stella when he travelled around with a medicine show playing for a couple of dollars and food here and there. Later on in his career when he was much older he can be seen with a top end Martin D28.
It's interesting to note that many old players opted for Gibsons and Martins after they were re-discovered, further evidence to suggest that they didn't used Stellas because they 'were great for the blues' but because they couldn't afford anything else.
Ordering by mail meant that you were never quite sure what you were getting, although the general build quality was pretty standard across the board. They had little sustain compared to acoustic guitar we can find today, because they were so robustly built. The very early guitars had not truss rod for neck adjustment, so if the neck warped, the guitar was finished.
Here's a list of the blues men who played Stella Guitars:
Pink Anderson

Barbecue Bob (12 string)
Jim Baxter
Ed Bell
Willie Brown
Joe Callicut
Sam Chatmon
Ollie Crenshawe
Ford "Snooks" Eaglin
Dave "Honeyboy" Edwards
Sleep John Estes
Jesse Fuller
Buddy Boy Hawkins
Peg Leg Howell
Mississippi John Hurt
James "Boll Weavil" Jackson
Jim Jackson
Lulu Jackson
Homesick James
Skip James
Tommy Johnson
Dennis "Little Hat" Jones
Furry Lewis
Leadbelly
Carl Martin
Memphis Minnie
Robert Nighthawk
Charlie Patton
Tom Shaw
Johnny Shines
Rambling Thomas
Harmony was among the most popular guitar makers in the USA, producing most all of their guitars in Chicago during the peak years in the mid 1960s.
They made many types of stringed instruments, including ukuleles, acoustic and electric guitars, and violins. Founded in 1892 by Wilhelm Schultz a German immigrant from Hamburg. In their day, they made more guitars than all the other guitar makers combined. They altered designs, for each design of guitar popular throughout their history.
Wilhelm J.F. Schultz, a mechanic, came to Chicago and got work at the Knapp Drum Company. Knapp was bought out by a large instrument production giant, Lyon & Healy, and Schultz became supervisor of the drum operation.
In 1892, Schultz left Lyon & Healy and, with four workers, started Harmony in a loft of the Edison Building situated at Washington and Market Streets in Chicago, later on the website of the Civic Opera House. It is not completely certain that the initial company was called Harmony in its early history as it did not begin to actually use the Harmony name until the 1920s.
Very little info is known about the earliest Harmony-made guitars. Probably few made it through, however likely they were little acoustics that used with gut strings, and glued-on bridges. Likely they would also have had three dots at the fifth, seventh, and 10th frets.
Essentially, markers at the 10th fret, versus the ninth (found on a few guitars and banjos before the 1880s), was a technique utilized by guitar makers who intended to sell their instruments into the tremendously popular mandolin orchestras at the time.
Mandolins had position markers at the 10th fret. The guitar of the 1890s was either utilized mostly for singing accompaniment or as a continuo instrument in mandolin and banjo orchestras of the time. Harmony and its early main competitor, Oscar Schmidt, of New Jersey, continued to prefer use of the 10th fret long after many other major makers picked the ninth fret (some, like the Larson Brothers, likewise continued to use 10th-fret markers).
By 1894 there were some 40 employees working at Harmony as Chicago was a hotbed of commercial manufacturing offering opportunity to European immigrants pouring into the country. Chicago was at the transport crossroads of the nation as transcontinental railroad lines and resting on the Great Lakes, and simply over 100 or two miles from the mighty Mississippi River.
Due to location, Chicago ended up being the provider of products for the Heartland of America. Chicago was the home of the mail-order product business, which played a significant function in the dissemination of the guitars throughout America and the increase of the guitar makers there.
Montgomery Ward promised to offer only American-made guitars in their 1894 catalog, which they declared were of superior manufacture, made "scientifically," and ensured not to warp or split ... as long as you didn't use steel strings! They abandoned the sale of imported guitars due to the fact that they might not withstand the weather changes they went through in the New World. Likely, these guitars were from German makers.
Ward's was selling Lyon & Healy-made Washburn guitars and probably some low-end Bohmann guitars that included birch wood with fake wood grains.
When Sears, Roebuck and Company entered into the picture, they were offering the exact very same guitars in their brochure. Given that Sears was officially a watch and precious jewelry company these were the first guitars they marketed for sale.
By 1897, Sears was working with the new Harmony company offering new guitar designs. These were mostly little bodied parlor guitars which were popular at the time.
Seen in the '97 Sears brochure was early Harmony made guitars like the No. 7102 "Euterpe," a standard-sized guitar with an orange top (wood unspecified) and a body of quartersawn oak. The top was bound with a light/dark block marquetry purfling, as was the sound-hole.
The neck product was also unspecified, however typically these had cedro or "Spanish cedar" necks, a wood like mahogany. The Euterpe had an 18-fret ebonized fingerboard, and our telltale three dots at five, seven and 10. The pin bridge had little elevated squares on the wings, normal of some Harmony bridges. This cost? $5.75, with money-back warranty!
The No. 7106 "Troubadour," at $8.65, was another requirement with an orange top, this time made from strong mahogany. Unlike the Euterpe, this had a "convex" or ovaled ebonized fingerboard (5/7/10 dots), and a colored ring rosette. The top was unbound.
The bridge was the same as on the Euterpe. For $.30 more you might get the No. 7107 Troubadour, which included white celluloid binding to the top. The Euterpe and Troubadours were provided until 1899.
In 1899, Sears broadened the line of guitars, from Harmony and by Oscar Schmidt of Jersey City, New Jersey. Harmony guitars on the lower end, Schmidt guitars had the upper end. This arrangement was offered for decades.
Chicago's Montgomery Ward & Co. had begun its catalog sales to Grange farmers in 1872, and by 1890, just 2 years prior to Harmony's arrival, had become the world's largest retailer.
Sears, Roebuck & Co., which had begun as a watch company in Minnesota in 1885, became a full merchandise mail-order catalog service in late 1893, offering its very first catalog in 1894 and relocating to Chicago in 1895. By 1900, Sears had actually surpassed Ward's to become the world's biggest shop.
In 1914, Sears adjusted the name Supertone for its musical instruments (likewise utilizing this name for record players and records they sold). The instrument offerings and suppliers remained the exact same, this was Sears' very first huge brand. Practically simultaneous, Sears' crosstown competing Montgomery Ward presented its Concertone brand name. And this was utilized on a nearly similar series of guitars!
By 1915 Harmony was the first large scale ukulele contractor. Sears, Roebuck and Co. bought Harmony in 1916 to corner the ukulele market. At the time Harmony was led by Joe Kraus, who was chairman till 1940.
In 1928, Harmony presented the first of many Roy Smeck designs, and went on to become the biggest producer in the U.S. They offered 250,000 pieces in 1923 and 500,000 in 1930, including numerous designs of guitars, banjos, and mandolins.
In the late 1930s, Harmony started making violins again after a 19 year hiatus. They likewise bought trademark name from the insolvent Oscar Schmidt Co.-- La Scala, Stella, and Sovereign.
These instruments were still mainly offered through huge mail order catalogs like Sears Roebuck (Silvertone) or Montgomery Ward (Airline) making them easily available to everybody. These were the days way prior to the Internet, eBay and Reverb.
Plus prior to Asian imports were available. Lots of towns in America did not have a music store nearby. Harmony provided a number of the big mail order catalogs through the years which were the same Harmony-made instruments except for the label in many all cases.
It is not uncommon to see the same vintage Harmony guitar model with different branding. Some Harmony instruments, although were considered by lots of players the "poor man's" Gretsch or Gibson. However they have their own special tone and vintage vibe.
Numerous designs have actually become sought after and popular in the classic market like the mid to late '60s Harmony H22 Bass, Harmony Rocket, Harmony H78 (Dan Auerbach of the Black Keys), 1967/68 Sovereign acoustic, Silvetone 1446 (Chris Isaak), Harmony H72 Meteor and Harmony Strattone H44 for examples.
Interestedly, H1260 Sovereign was Jimmy Page's main acoustic during the early years of Zeppelin. Any high-grade Harmony made guitar are preferable in today's classic market, but typically priced way lower than Gibson, Fender or Martin making them a deal, depending upon condition and playability.
Harmony was, especially in the early days, capable of turning out guitars with pretty good workmanship. But these guitars were never ever positioned to compete with D'Angelicos, much less Gibson, Gretsch or Fender. Harmony built guitars were many times a players first instrument.
Harmony made guitars were played by Howlin Wolf, Big Joe Williams, Elmore James, Elvis, Ritchie Valens, The Stones, Small Faces and others. However, there are more than sentimental needs to have an interest in Harmony guitars.
Instruments were sold under a variety of trade names-- Vogue, Valencia, Johnny Marvin, Monterey, Stella, and others. In 1940, after Kraus had a conflict with management, he left, but then purchased sufficient stock to reboot the company independently.
Harmony peaked in 1964-1965, selling 350,000 instruments, but low-end foreign competitors caused the company's demise 10 years later on. Between 1945 and 1975, the Chicago company mass-produced about ten million guitars.
The business lowered their output for many years, later on focusing on student designs sold through JCPenney.
Note that a few of the guitars sold in the Sears and Wards catalog where also manufactured by Valco and Kay business.
In the 1930s, Valco was formed by 3 service partners and former owners of the National Dobro Company; Victor Smith, Al Frost, and Louis Dopyera. The business name was a combination of the 3 partner's first initials (V.A.L.) plus the common abbreviation for business (Co.).
Valco made Spanish acoustic guitars, metal-bodied resonator guitars, electric lap steel guitars, and vacuum tube amplifiers under a range of brand names consisting of Supro, Airline, Oahu, and National. They likewise made amplifiers under contract for several other companies such as Gretsch, Harmony, and Kay. In the 1960s they began producing solid body electrical guitars.
Kay Musical Instrument Company, USA musical instrument producer also started its operations in the 1930s in Chicago, Illinois by Henry Kay Kuhrmeyer, from the properties of the previous Stromberg-Voisinet, which was founded as Groeschel Mandolin Company in 1890.
Kay offered their first electrical guitar in 1936-- 5 years after the Rickenbacker Frying pan, and the very same year as the Gibson ES-150.
Valco merged with Kay Musical Instrument Company in 1967, however the merged business quickly failed in 1968 because of financial troubles.
Harmony guitars, although they were primarily marketed to beginners, also developed some guitars to attract professional players. The H78 was one of Harmony's much better quality guitars. Note that all Harmony guitars these were mass produced. Low-cost rock-and-roll makers. Harmony produced a lot of various models under different trademark name.
Harmony's higher-end archtops can be rather resonant, as a lot of all of the early guitars-- at least those made in America, instead of subsequent imports-- were made of solid woods like solid spruce or mahogany and not plywood.
The lower end designs were normally made of birch and have the binding painted on. Instead of inlaid fret markers, the markers were merely painted in the suitable places. The tailpieces on a few of the lower end models were made of pushed metal. Some have the tailpieces or pick guards screwed into the wood.
The necks on a number of the Harmony guitars did not have adjustable truss rods. Instead the graphics on the head stock reveal, "Steel Reinforced Neck." Numerous Harmony guitars have actually kept a straight neck.
Old DeArmond single-coil pickups gracing the solids and Rocket thin lines which can sound excellent into a cranked up amp.
The pickups on almost all Harmony electrical guitars and basses were produced by Rowe Industries Inc./ H. N. Rowe & Company/Rowe DeArmond Inc./ DeArmond In. in Toledo, Ohio.
A number of the instrument amplifiers badged with the Harmony name were manufactured by Sound Projects Company of Cicero, Illinois.
The Harmony solid body electrics in the late 1950s and early 1960s were generally aimed at the novice market with names such as Stratotone and BobKat models. The much better instruments were the thin line hollow body electrical guitars such as the Harmony Rocket or H78.
Some designs even had up to three DeArmond pickups each with specific volume and tone controls. Harmony guitars generally did not have the quality of Gretsch and Gibson. For the cash these were quite nice instrument and have their own unique noise due to the way they were build and the pickups they utilized. Have to love the tone of a gold-foil pickup.
Interesting truth is that when Fender was trying to burglarize the acoustic guitar market, the very first guitar line they used in their catalog was actually made by Harmony with the Fender brand name on the head stock. Baldwin after purchasing Burns and Gretsch brands, did not have a classical design, so they had Harmony produce "Baldwin" classical guitars.
The late 1960s and early 1970s were bad times for U.S. guitar makers with Vietnam War and inexpensive Asian imports rushing in to the market. None of the American guitar makers were succeeding in this period and it quickly spelled completion for USA Harmony guitars.
In 1975, the Harmony Guitar Co. in Chicago ceased operations and had a three day auction. The auction was substantial considering that it was 2 city blocks under one roofing system. Should have been some event! Later on in the 70's the Harmony name was offered to be used on Asian guitars.
Keeping with their custom of selling through brochures and outlet store, the 1990's saw Harmony offer the majority of their guitars to J. C. Penny shops. The Harmony hallmark and all intellectual property was acquired in 2009 by Westheimer corpoaration in Northbrook, IL. In 2011 they debuted the New Harmony Vintage Reissue series.