Vintage Acoustic Guitars Review
 - The Vintage V300 Parlor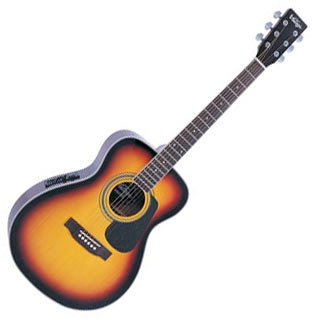 The V300 Parlor from Vintage was recently

voted "The Best Guitar Under £1000"
by
Acoustic Guitar

Magazine
and you can believe it. For a cheap guitar, it has an amazingly good tone, with a mature sound. The wood is good quality The top is spruce with a neck of nato which is fast to play. The bridge is rosewood and it has twenty frets but 14 accessible frets.
A cutaway would be nice, bit that's not in the style of this parlor guitar at all. Players looking for this  kind of instrument are harking back to a different time. In any case, unless you are playing jazz or moving right up the neck, you don't need a cutaway.
The action wanted some adjusting because I found it too high but this was not such a big deal it depends on your left wrist strength and your overall style of playing. It came delivered in a card board carton, but was very well protected.

My initial impression was that the guitar is well made and looked really handsome (I went for the cherry sunburst model). 
I additionally opted for the VE300, which sports Fishman electronics and a tidy little on board tuner, which is an essential for me.
The sound is surprising. I found that the high end is more dominant, which is great for cutting through noise if you're playing acoustically, but I prefer more bass. Still, for the price tag it over delivers.


Before you move on, please check out my blues lesson course called 'From Texas To the Delta'.
 Basically, these 40 lessons present just about everything I know about acoustic blues guitar picking, gathered over 30 years of performing - it's my life's work!
The sound is really rich at the price. It's not to be faulted really. Amplified, it delivers a solid sound with bags of class.
The finish doesn't appear to mark easily if banged - an inevitable side effect for the traveling musician, and it stays in tune well enough. The tuners are Grover clones and seem high quality. This is the sort of thing that becomes apparent after time. 
The V300 shouldn't really be compared to an expensive Taylor or Martin. Guitarists having any of these will hear immediately that the Vintage is missing something in the bass department, but of course you could pay twenty times more for one of these classy instruments.

The question is - is the difference worth the extra money? As is normal, it depends on your needs and what you are willing to pay. For me, this is a fantastic blues guitar for around £180, a price tag that I still find incredible.
I bought the Vintage award winning six string guitar after playing blues guitar on the street (it was my job!) and someone ran off with my Martin! Now, I did get it back after a chase, but I realized I need something cheaper with a good sound. This guitar fit the bill perfectly and I used it for a long time before giving it to my son (who gets all of my old guitars.)

It's a great guitar for learning how to play the blues - it's easy to fret and if you string it up with a good string, such as Martin SP might gauge you will be amazed at the tone. Try some fast ragtime blues and you'll see what I mean. It doesn't lend itself to delta blues, because the basses aren't there, but with a bit of amplification, it doesn't really matter.
Author: Jim Bruce 
Date: 2015-05-22
Category: Music