What Is The Way To Start Learning The Blues? - Youtube Guitar Lessons
Actually, this is the most common question I'm asked. How do we start to learn how to play acoustic blues guitar, Probably the first guitar style to appear out of the delta was bottleneck guitar, exemplified by Muddy waters, Robert Johnson and Son House before them - apart from countless other amateur guitarists who played for fun, or a meal at parties.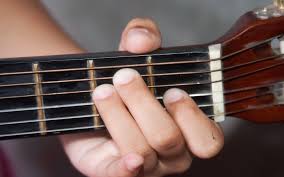 Youtube Blues Guitar Lessons
Doc Watson Guitar Lesson On Youtube - Deep River Blues. Doc Watson wasn't a blues player and mostly flat-picked his guitar with a plectrum. However his 'Travis' finger picking technique was very special and the best Youtube guitar teachers will tell you it's very difficult to copy - let's take a look in the video below.
However, I don't recommend beginning with bottleneck, even though it's a simple enough form. Youtube has many basic lessons for playing slide and bottleneck. A basic blues in the key of E has many advantages. For one thing, three basic chords, E, A and B7 gives a splendid basis for learning the blues style. Don't use fancy inversions, but stick to the basic chords for starters. Just strumming the E chord on a guitar with powerful basses immediately puts us in the mood!
Many players use the monotonic thumb style of playing, where the thumb strikes the bass E regularly, providing a lovely drone sound but also can be a drum sound. Yes, even with such a basic strike, there are nuances and things to learn. For example, if you hit the Bass e string with your thumb and let it ring, the sound will sustain and provided counterpoint to any treble work your fingers might play.

On the other hand, if you drop the palm of your hand onto the string just after you hit it, the sound will be clipped or damped, choked off. it sounds like a drum and musicians such as Mance Lipscombe, Lightnin' Hopkins and Big Bill Broonzy used this to great effect;
In my own courses, I recommend two songs by Hopkins - Baby Please Don't Go and Mary to start off with. They are both in E and use the monotonic bass thumb technique, but the pace and approach is different. In some places Hopkins lets the bass E ring out (particularly when he's laying down a riff on the treble strings high up the fret board) and sometimes he damps the bass strings in a percussive manner, laying down a beat. He also doubles up on the tempo, producing what he called a heartbeat effect, which had a powerful pull on the emotions of his audience. 


Links To Some Of My Youtube Videos
If you have a passion for learning the blues guitar, then a search for
blues lessons
You Tube guitar 
will show you hundreds of free streamed lessons to start you off learning acoustic blues. For the majority students learning guitar techniques, watching a video can be almost as good as a live teacher. You might even prefer following streamed
video lessons
instead of taking a class as lessons on the Tube are there to be viewed twenty four every, 7 days a week, so you watch a video whenever it's convenient.