Love In Vain Acoustic - A Typical Robert Johnson Song Lesson
Love in Vain is in the key of A and follows Johnson's approach in this key.
It's been said that if you can play one song in A of Johnson's, you can play them all, and there's quite some truth in this.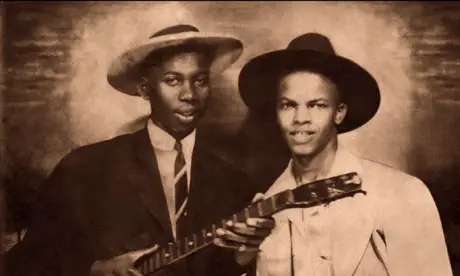 Of course, when we develop a particular liking for a style or certain riff, it does tend to appear again and again, whenever we use that key. Johnson, like all of us, tried to disquise it with tempo changes and minor embellishments.
Without a doubt, it was his intensely emotional vocals which had the most impact.
Love In Vain chord structure is not too difficult, basically being A, D7 and E7,
but he does use some interesting inversions probably learned from other blues men he encountered along the way, such as Son House. He starts offf with a D7 shape high up on the neck and proceeds to run down before changing to a long basic A shape, which he uses to continue the run down, ending in a standard E/E7 shape before starting to sing.
The first two lines are sing over a long A and D7 chord. After each line of verse, Johnson generally moves up the fretboard to play something a little more complex, which is more interesting for the listener instead of vamping away on the standard A bar boogie type thing.

Generally, his guitar picking is simpler as he sings,

but it's also true that his voice seemed to be completely independent of his guitar. this is rare and can only be done by someone who has completely mastered his instrument - tink ary Davis, Big Bill Broonzy, Willie McTell, Blind Blake.
Although this blues song follows a standard format, it does contain riffs not found in other songs of that time. The famous run down on the middle strings using the A shape is an example of this. You can either play it with a bar, or by just holding down the high E string on the 5th fret, but it the same thing.
Usually, Johnson would include a couple of instrumental breaks in between certain verses,

to build tension, add variety for the audience and keep it interesting! He simply used high inversions for the D7 and A chords and improvised around the treble strings finger picking. Throughout it all, his thumb maintains that steady monotonic bass beat we all know and love - enjoy!
Copyright (c) Youtune Records
Jim Bruce Videos