Acoustictravelers (Jim Bruce and Ken Mayall) play 
Statesboro' Blues by Willie McTell.

Blind Willie McTell ( born May 5, 1898 ,died August 19, 1959) was a blind blues guitarist,
who sang and played 12 string ragtime guitar,
finger picking
the Piedmont blues. He recorded 149 songs during his career. 
His real name was
William Samuel McTier
and he was born in Thomson, Georgia. Born bind in one eye, he lost his vision completely after several years, but was a  skilled reader of Braille. He had an interest in music from a young age and taught himself to pick six-string guitar as soon as was possible. 
His father deserted the family when McTell was a boy
, and after his mother passed on, he left town and became a travelling
player
. He started recording in 1927 with
Victor Records
;
Before World War II, he travelled and played all over the country, performing for several labels using a pseudonym name for every one, names such as Blind Willie McTell  for Victor and Decca, Blind Sammie  for Columbia, Georgia Bill  for Okeh, Hot Shot Willie (Victor), Blind Willie (Vocalion), Red Hot Willie Glaze (Bluebird), Barrelhouse Sammie (Atlantic) and Pig & Whistle Red (Regal).

Blind Willie very often played for small change in the parking lot of the Blue Lantern Lounge. He had a particular style: a kind of old blues, which bridged the gulf between the raw blues of the early part of the 20th Century and the "Piedmont" sound from the East Coast. The technique is well noted on the 1940 John Lomax recordings  (Library of Congress), for which Willie was paid 10 dollars (about $155 eqsuivalent today's money).

He is a little out of the ordinary, if not completely one of a kind, amongst any blues men in his skill of playing the guitar in both a complicated , ragtime style like Blind Blake, and a bottleneck blues technique ("Three Women Blues").  His technique in both styles is expertly done, with fluidity and creative; when we look at different recording sessions of the same song, we find that he didn't play a song in quite the same way more than once.




How To Learn To Play Blues Guitar In The Style Of Blind Willie McTell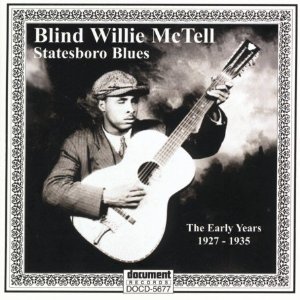 In the above video I play Statesboro' Blues in dropped D guitar tuning, whioch McTell used on his 12 string Stella guitar, but it's very different from his original recording. When I learn a blues man's fingerstyle patterns, it's generally split into 3 distinct parts. First, I want to learn the guitar riffs he's using to make his distinctive sound, so it's essential to go through the song note by note, placing the fingers exactly where McTell it them. Even if you want to put your own stamp on a song, you need to know how the blues man did it in the first place.
For me, writing your own guitar tab is the way to go, stopping and starting the song phrase by phrase and creating the tab by matching the left and right hand finger positions as you go. It might seem a little slow at first, but it will save lots of time in the long term, believe me. For one thing, you'll be sure to get every note - if you simply rely on a tab another guitarist wrote, you're not sure exactly what you are getting (unless you have  alot of confidence in a particular instructor.)
Another great benefit of taking Statesboro' Blues apart yourself is that by the time you're finished, you'll know the tune, the lyrics and the feeling inside - you will have lived almost as much as the guy that wrote it! Normally, once you are happy withe the guitar tab and it might take several reiterations before you are, you start to become aquainted with the pingerpicking patterns phrase by phrase, paying particular attention how each phrase transitions into the next to form the complete song.

It's a great way to learn acoustic blues guitar, because it thoroughly re-builds the piece from the foundations, so all parts of your performance is solid. However, after saying all that, with some blues guitar players, it doesn't quite work out like that! Many old players played according to that silent rhythm inside their heads that may or may not be a rhythm that we may all be comfortable with. Statesbroro' is such a song - it's basically arhythmic, so doesn't follow a steady pattern, which is one reason why I decided to keep the basic form, but change the tempo that is more accessible to modern ears (I think!).
The second reason I changed the timing was to accommodate a harmonica player, as the cadence of the song really lends itself to the plaintive howl of a blues harp when played by an expert like Ken Mayall, my musical partner at that time. I also raised the key by fitting a capo on the second fret, which put the musical pitch within Ken's vocal range and also he could use a G harmonica, so everything fitted together nicely.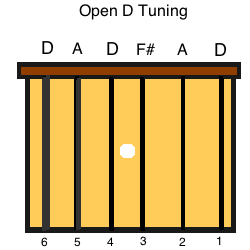 It's played in dropped D, which is a piece of cake to tune to, simply 'drop' the bass E string two frets or steps until it plays a D note when struck. When I'm playing in public, I often transition from normal tuning, to dropped D tuning, and then tuning the rest of the strings to open D and apply a couple of numbers in each style.

Once you're in drop D, you only need to tune the last three strings down and you have a completely new feel. It's this kind of variation that keeps an audience enthralled and interested in what come next.
Listen to Willie McTell sing the original 'Statesboro' Blues' below:

statesboro blues willie mctell.mp3
Blind Willie McTell's Early Life As A Blues Man
In 1934, he wed Ruthy Kate Williams ( known as Kate McTell). She performed with him on stage and on several studio sessions, before she became a nurse in around 1939. Most of their time in marriage  until his death was spent separated, as she lived in Fort Gordon near Augusta, and he worked around Atlanta. After the second world war, he made some records with Atlantic and Regal Records in 1949, but these were not as successful as his previous work. He kept playing around Atlanta, but he had to stop due to  ill health, which was mostly the effects diabetes and alcoholism.

In 1956,  Edward Rhodes (a record store manager) came across McTell playing on the streets for tips and persuaded him into his store with a bottle of whisky, where he recorded some songs ad-hoc. These were later released on Prestige/Bluesville Records. He passed away in Milledgeville, Georgia, after a stroke in 1959. He's interred at Jones Grove Church,  Thomson, Georgia, where he was born.  One of his fans paid for his gravestone. He was inducted into the Blues Foundation's Hall of Fame in 1981.

Date: 2014-05-17
Category: Music
In this video, Jim uses a Travis picking style to
introduce variations to 'Search The Desert' by Willie McTell