Acoustic Blues Guitar Video Lesson Preview - Baby, Please Don't Go by Lightnin' Hopkins
Of

 

course, this song has been recorded before by many people, like Big Joe Williams.

Big Joe has a great voice but his guitar work doesn't have the power and depth of Lightnin's sound. His rhythmic style and sure touch gives his music a special feeling that is tough to imitate.

It isn't technically difficult, although the timing is interesting in places, but the overall effect of Lightnin's deep Texas drawl and his finger picking technique is a powerful combination that touches his listeners. BB King once said that Elvis had a special characteristic – when he sang, you just believed him – you couldn't help, there is a sincerity in the voice that can't be manufactured or pretended. Lightnin' is like that – he sings a story and we just believe him.
He used a plastic thumb pick and mostly one finger for his picking, which sometimes strummed several strings up the neck to give a light and warm sound. Many of his songs were thinly disguised copied of standard blues, and although he is credited with more than a hundred original pieces and songs, many of these are very, very similar to each other. Still, his output and style were legendary and he remains an incredibly important blues guitar player to this day.
Played in the key of E, the monotonic thumb bass is adapted to this slightly up tempo song as he stamps his own style on the blues. In one place he stops to take an instrumental break and shows how he has complete control of his thumb, striking on the off-beat while alternating with his index picking finger to produce a syncopated sound that is difficult to produce with the same kind of effect – it's so sure and the timing is perfect.

His thumb would strike the bass string twice and then again after his index finger has counterpointed the sound with a treble note – powerful stuff.

As always (or almost!) Lightnin' doubles up on his solid thumb bass pattern to make the sound of a heart beating, which is a powerful call to the emotions of the listener, by-passing any intellectual viewpoint and going direct to the nitty-gritty! Big Bill Broonzy also does this.

Lightnin' had a low, low voice and I get the impression that he sometimes tuned his guitar down a step or two, depending on the time of his life. Mind you, this rule is not hard and fast, as I know that on at least one video, he is tuned up one step, so I guess he decided when he wanted to do it depending on the song and the guitar.
We often find that Lightnin Hopkins changes chords in some strange places that don't seem to make any sense,
if we are firmly set on playing a blues with

 

a fixed number of bars for example. He would bend the musical structure of the song around to suit his singing and the story he's telling. If he need more time to add a line of verse, he'd just take it! It was probably tough to jam or accompany Hopkins on the guitar, as it was sometimes hard to know when to change chords.


Two Texas Blues Guitar Players - Lightnin' Hopkins and Mance Lipscombe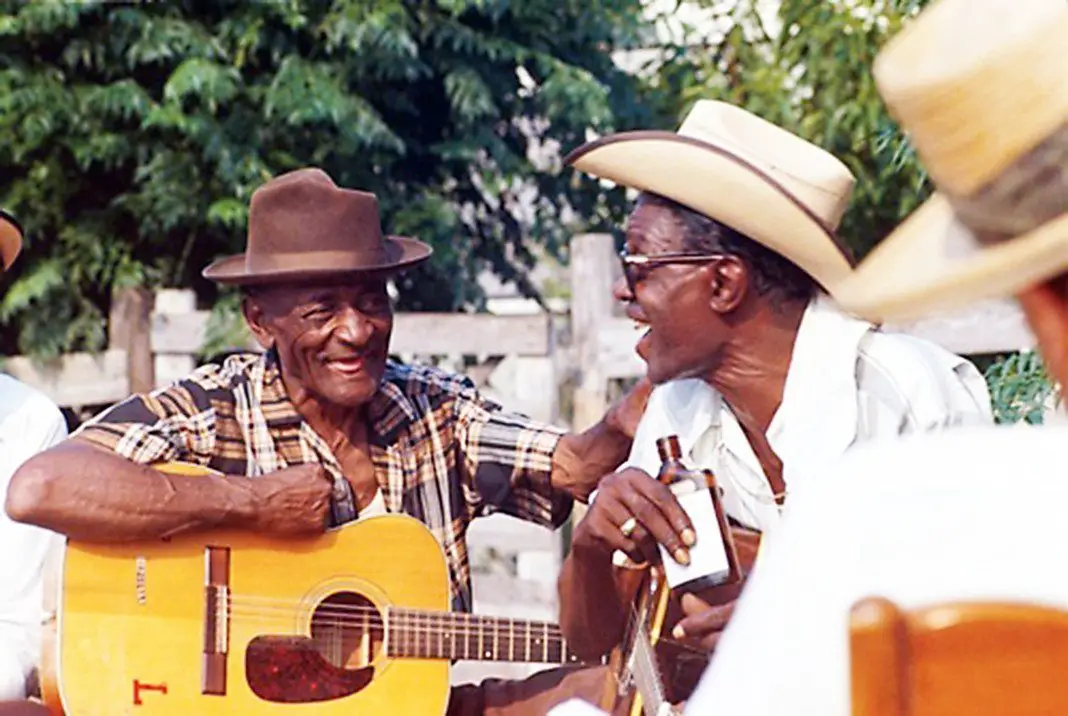 Mance Lipscombe and Lightnin' were great buddies and often played Baby Please Don't Go together, although when they played it separately, their versions were slightly different. Both guitarists were masters at that hypnotic monotonic bass thumb strike, where the bass note is quickly muted with the palm of the picking hand rather than letting it sound out.
The sound is more of a 'thunk' or a 'thud' than a musical note and sounds a bit like a drum, keeping a solid tempo for the lyrics and melody on the high strings to weave around. I play a lot in this particular style, mostly on the street, and over in Europe it isn't that common outside the blues players.
More than once, guitarists have been curiously watching my style up close and talking afterwards often remark that with this way of hitting the bass strings, a bass guitar and drum accompaniment just isn't needed! This is just how it was back in the day when the blues was being formed. Unless someone made a make-shift  bass guitar out of a tea chest and broom handle, there wasn't a bass at hand. In the very early days in the Mississippi Delta , drums were actually banned by the 'bosses' because it gave the slaves too much hope of freedom during those repressive years before slavery was abolished.
The Blues According To Lightnin' Hopkins
Mance's thumb style was if anything, more basic than Hopkins
, but of course very, very solid. Although some blues men did change the bass string that they struck with their thumb, it seems that Lipscombe didn't do this at all, preferring to mute those strings just perfectly so that hardly any of the note came out at all. This way he could hit the same one or two strings whatever chord he was playing and it never sounded weird at all.
The first time I saw Mance play was of course on Youtube,
like millions of other people, that's where I see the old blues greats. Incredibly, he was playing with a bandage on his third finger of the picking hand. It made me realize how things were in the days when these guys played on street corners or bars for a meal or a bed. You just played, whatever ails you - as long as your fingers work, then you play, it's a simple as that. Nowadays, we fuss if we break a nail, and talk about the technicalities, strings, guitar quality etc, but these guys just picked up a guitar and did it.
Lightnin' Hopkins Popular Songs - The top ten
9

Have You Ever Loved A Woman










Author: Jim Bruce 

Date: 2013-10-01

Category: Music



As you can see, Baby Please is 2nd on the list and was extremely popular - listen to the MP3 of the original below:
baby-please-dont-go-lightin-hopkins.mp3
A visit to Houston for any fan of vintage black American music can't fail to take in a ride through the city's Third Ward, the cradle of South Texas blues and the point of origin for just about every strand of music to come out of H-Town since the early 20th century. The look of the place has changed greatly from those days in the 1930s and 40s when it was the epicentre of black music activity in Houston and probably the whole of the American South. It's still the heartbeat of the city's black community, but on streets where once great blues singers stood on corners and played for nickels and dimes, a profusion of coffee houses and smart restaurants for vegans and carnivores alike now stand.

A titan of Texas blues such as Sam John "Lightnin'" Hopkins would struggle to recognise Dowling Street as the place where he and his distant cousin Alger "Texas" Alexander plied their musical trade in the hope of making enough money to eat in the late 1930s, or where Lightnin' was discovered in the mid-40s by Lola Ann Cullum, the well-to-do dentist's wife with a passion for the blues and good contacts with Los Angeles' Aladdin Records, his first recording home. But at least Dowling Street hasn't been bulldozed in the name of gentrification. If you wish to do so, it's still possible to stand on a corner, close your eyes and imagine what it would have been like to hear Lightnin' and his peers more than 65 years ago.

When I first started listening to blues records in the mid-60s, I was drawn to Lightnin's music immediately. I loved his laconic vocal style and the relentless rhythmic thrust of his up-tempo sides. I played his fantastic live recording of 'Cadillac Blues' over and over again, trying to decipher what he was saying in its opening rap in his often hard-to-decipher South Texas drawl, all the while waiting for him to drop the killer boogie riffs that come along half way through. Once I discovered his R&B classic 'Mojo Hand' on a Sue compilation in 1964, I knew my ears would have a lifelong relationship with the music of Lightnin' Hopkins. And they have.

Lightnin' died aged 69 in 1982, leaving behind a remarkable recorded legacy that spanned more than 30 years. During the late 50s and early 60s, he was at his most prolific, recording for anyone who would offer a fee and selling many albums to folk-blues fans. He made many fine albums during these years, some of the best of which have long been available on Ace. His earliest sides for labels such as Aladdin, Gold Star, Sittin' In With and Modern capture him at his most essential. Ace also have that period of his career covered with "Jake Head Boogie" (a collection of the finest Lightnin' masters and alternate takes from the Modern Records inventory) and "His Blues", a 2CD career overview issued in conjunction with Alan Govenar's definitive Lightnin' Hopkins biography of the same title.

Unlike many of his Houston contemporaries, Lightnin' enjoyed worldwide fame and acknowledgement of his contributions toSouth Texasblues while he was still alive. It's a fitting testament to his talents that he has so many CDs available more than 30 years after his death. To find the man and his music at their very best, you need look no further than Ace.

Article Source: https://www.acerecords.co.uk/lightnin-hopkins