Blind Blake Ragtime King Biography (born Arthur Blake or Arthur Phelps,
and sometimes known as Arthur Blind Blake (born around 1893, in Jacksonville, Florida; died: 1933) was a prolific ragtime  blues singer and guitarist. He is known "The King of Ragtime Guitar". He put out around 80 songs for Paramount from 1926 to 1932. He was an accomplished guitarists of his style with a astonishingly diverse repertoire. He is well known for his rhythmic guitar sound that sounded like ragtime piano. Unfortunately, here is only one photograph of him existing.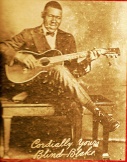 Not a lot is known about Blake. His place of birth is shown as Jacksonville, Florida by Paramount  but that its not certain. On one song he lapses into a Geechee way of speaking, which could lead us that he was from the coastal region of Georgia.  Nothing is known of the circumstances surrounding his death and we are not even sure of his correct name. According to some, his proper name was Arthur Phelps, although there is no real, written evidence of this.
The "Phelps" name probably came about after he responded to Blind Willie McTell in a conversation in 1955 in Atlanta, where Blake was never reported to have frequented; neither did Willie McTell ever live in or near Chicago. However, many of Blake's tracks were copyrighted by the name 'Arthur Blake', and during his recording with Papa Charlie Jackson, "Papa Charlie and Blind Blake Talk About It", the following words are clearly heard:
Jim Bruce performs the rhythmic finger picking picking
pattern of Blake's ragtime guitar in 'Southern Rag'.


Arthur Blake - the first Ragtime Guitar Master

Blake first recorded in 1926 and the sold really well. The very first solo track was "Early Morning Blues" and "West Coast Blues" was on the other side. These are great examples of his guitar technique and are the basis for the growing Piedmont blues style. Blake last entered the studio in 1932, Paramount's bankruptcy accelerated the end of his career . People often say that the later songs don't have the same 'panache'. 
By all accounts, Blind Blake drank a lot during his last years. Maybe this caused an early death at 40 years of age. Nobody know how he died; Reverend Gary Davis thought that Blake was knocked down and killed by a streetcar. Blake's complicated and delicate finger style has been the inspiration Reverend Gary Davis, and many others.
Blake's Amazing Guitar Finger Picking Technique



It's not known if Blake was taught by a previous master,

or how he formed his idiosyncratic playing style. Of course, many guitar players had a complex and rhythmic guitar technique, but not many were so accurate and quick as Blake.

In his musical presentations, regardless of the key, the formations he used were often strikingly simple. His left hand fretting fingers were good at damping the bass string sound and that movement is vita when finger picking rapidly. It seems to me his picking hand (the right) was the most important, but of course both hands coordinate to make that wonderful sound.


His finger picking patterns could be separated into these parts

– rolling thumb strikes , rapid finger triplets and single string runs picked with alternating thumb and finger. It's true that other players had these techniques, but Blake used these techniques continuously throughout his songs, forming complicated and syncopated combinations.

His thumb action in  should be a particular subject of  students starting to

learn how to play blues guitar

in the ragtime blues style. Many guitar players know the picking pattern called 'alternating bass'. However, Blake would roll his thumb between two bass strings, forming two beats instead of one! Also, he could change the picking pattern and reverse it in mid flow, which exemplifies Blake's incredible dexterity.



Blake Songs In The Key Of C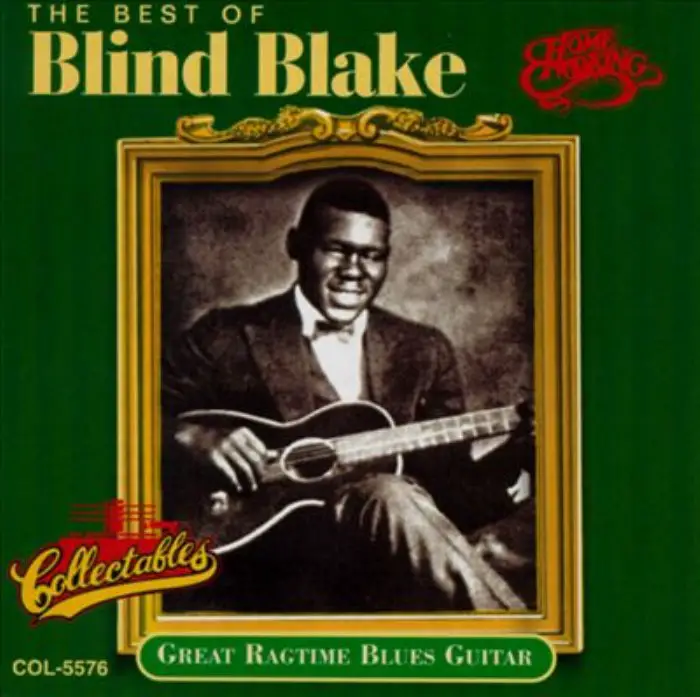 You only have to listen to the Diddy Wah Diddy Lyrics Blind Blake wrote to feel that playful approach that he brought to fingerstyle blues guitar. It's not only very accurate but it's so fast. It's incredibly difficult to copy, but a lot of fun trying! 
Typical of Blind Blake lyrics, Diddy throws a cheeky reference to sexual matters without actually saying it, so that his songs were acceptable to all. It sometimes feels as though the words were kind of superfluous and it was the guitar playing that appealed to listeners.
Diddy uses a very standard chord progression structure and the chords themselves are very easy, we play them all the time, but it's the right hand fingerpicking technique that pushes this song into halls of fame.
West Coast Blues Blind Blake
Blind Blake West Coast Blues.mp3
Incredibly, West Coast Blues was the Blake's first track he recorded. Incredible, because it was probably the most successful and technically complex. It seems to me that he spent the rest of his very successful career (he cut 126 sides) trying to record something that would top that first effort, and although he created some stunning fingerstyle guitar arrangements, he never played anything better IMO.
Blind Blake is a figure of massive importance in American music. Not just was he one of the greatest blues guitarists of all-time, Blake appears to have actually been the primary developer of "finger-style" ragtime on the guitar, the six-string equivalent to playing ragtime on the piano. Blake mastered this form so completely that few, if any, guitar players who play in this style have actually been able to match his quite singular accomplishments in this realm. 
Blind Blake was the most regularly recorded blues guitarist in the Paramount Records
' race brochure; undoubtedly, Paramount pushed him as hard as they could, as he was their best-selling artist. By the time the Paramount label folded in the fall of 1932, Blake had actually taped a remarkable 79  sides for them under his own name and had  contributed accompaniments to Paramount recordings by other artists such as  Papa Charlie Jackson, 
Gus Cannon,
 Ma Rainey, 
Irene Scruggs, 
and Ida Cox..
One would assume, given Blake's value, star status, appeal and significant output, that we would know something more about the man. And after more than five years of searching performed by professionals on behalf of Blind Blake, we still don't know many hard facts about Blake, except for what he lets slip on his records. Almost all of exactly what is known about Blind Blake outside of that is a mix of opinion, report, slander and rubbish. 
At one point a theory was advanced that Blind Blake's true name was "Arthur Phelps" and it is under this name that Blake's entry is submitted in Sheldon Harris' Blues 'Who's Who'. However the theory is easily exposed by Blake himself, who states on his 1929 recording "Blind Arthur's Breakdown" that his name is "Arthur Blake." He quickly gets into Geechee dialect throughout the course of "Southern Rag," and this advanced a theory that Blake was really born in the Georgia Sea Islands and spoke Geechee as a mother tongue, accounting for his "uneasy negro dialect" on records like "Morning Blues." But there is absolutely nothing incorrect with Blake's "negro dialect," therefore it was easy to disprove this absurd concept.
Blind Blake is known to have had family in the location of Jacksonville, Florida and was likely born there; Blake might have grown up in Georgia. Blake was first seen in Chicago in the mid-1920s. His birth date is presumed to be sometime in between 1895-1897, as the only existing image of Blind Blake, taken at his very first Paramount session in August, 1926, shows a man of about thirty. Interviews with some of the musicians personally familiarized with Blake just reveal that he had a seemingly inexhaustible appetite for alcohol. 
No one has discovered any trusted account of what took place to Blind Blake after his last Paramount session in June 1932. The story that has Blake murdered in Chicago quickly after his Paramount date did not hold up after an intensive search of local authorities files. The most sensible concept about what might've taken place to Blind Blake after 1932 is that he wandered back to Jacksonville and lived a few years more, with 1937 recommended as a possible date of death. In the summertime of 1935, Mary Elizabeth Barnicle led an Archive of Folk Song exploration into the area where Blake is likely to have moved and looked around for black musicians, yet never ever encountered him.
Many of the recordings made by Blind Blake are singled out as traditional early blues performances,. A few that stick out consist of "Early Morning Blues," "Too Tight," "Skeedle Loo Doo Blues," "That Will Never Happen No More," "Southern Rag," "Diddie Wa Diddie," "Police Dog Blues," "Playing Policy Blues" and "Righteous Blues." Several of Blind Blake's initial tunes are by now country-blues standards, and judging from the additional developments in Atlanta-based Piedmont blues, Blake's influence there must have  been formidable, even if it came just by way of recordings. Anyone who hears Blind Blake can't help but be astonished by his genuineness, his gentle, off-the-cuff humour and the sheer effortlessness with which he plays some of the most treacherously complex finger-work ever recorded.
Author: Jim Bruce 
Date: 2014-09-08
Category: Music