Acoustic Blues Guitar Video Lesson Preview
Satisfied/Pallet on the Floor by Mississippi John Hurt

Mississippi John Hurt's Guitar Technique
There's just no mistaking that easy flowing style of the nice man of blues picking. Mississippi John Hurt wasn't a
ragtime guitar
player, as his name suggests, but he really did like that strong alternating bass. It was much more rhythmic country blues finger picking rather than Piedmont, South Carolina or straight ragtime guitar. It's worth while watching the old film of John playing - there are some great close ups and we get to see his fingers working.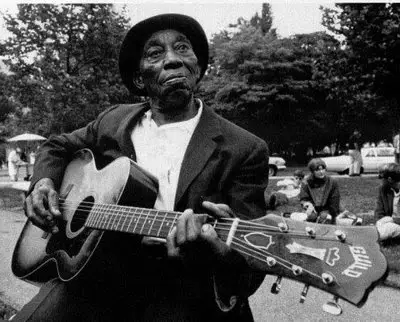 Although he use two fingers, his pinky never left the top of the guitar,
which gave him a huge advantage in that his hand was solidly anchored and he could really control the timing well. It depends how your own hand is wired, if you can play this way or not. I can't. When I use my second finger, my pinky always lifts away from the guitar affecting my timing.
I'm not sure how many other great blues guitar players did this,
but it's a nice trick. My failure to do this is one of the reasons why I finger-pick the guitar with one finger whenever I can - you don't need as much control, and it gives a special flavor to the music. Of course, when you play Hurt or Blind Blake songs, you just have to use two fingers if you want to try and copy that guitar sound.
While on the subject, many great master blues guitarists
used mostly one finger -
Reverend Gary Davis
(always),
Doc Watson
(always),
Broonzy
(mostly), and
Lightnin' Hopkins
(mostly). I get the feeling that Johnny Shines did, and maybe Johnson used two. It seems that John Hurt's style was quite unique in this respect. Other people played lazy rag style guitar, as I call it, like Elizabeth Cotton, but it's a different feel.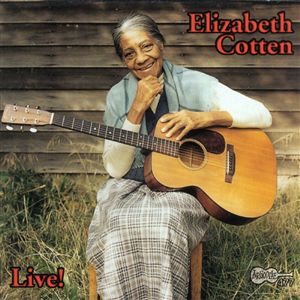 Hurt played mostly in C and G.
In the key of C his work was more melodic and lighter, with nice chord changes and interesting alternating bass variations. However, once the pattern for a verse was set, he mostly stuck to it!

Satisfied and Pallet on the floor were very, very similar.
In fact, if you could play one, you can play the other. There isn't a lot of technical difficulty associated with John's style, it's just the elusive feel that we need to try and capture, as is often the case with the old
blues men.
When he played in the key of G, his songs were driven by a powerful alternating bass on two strings,
which turned into a 3 bass pattern from time to time, which is one of the hall marks of an
expert guitar player
. In songs like 'Lonesome Valley' the whole song is performed using variations of just one basic G chord - impressive!
Mind you, it never feels strange or repetitive, which of course it is - very. Even the occasional discords we hear when open strings are played that don't really fit with a particular
guitar chord
higher up the fret board, it doesn't seem out of place when he does it.
Some of his work is quite challenging on reflection.
For example, his version of
Candy Man
has some tricky timing to get our heads around. It's very different from the accepted version by Reverend Gary Davis and has a flavor all of it's own. By all accounts, he was gently man and didn't go in for the traveling blues man's life much at all, preferring to keep his long time job on the railroad and retire without trying to find stardom.
However, he was sought out in the folk blues
boom of the sixties and played several festivals in his later years, where he wowed the young audiences. He also appeared on
Pete Seeger
's TV show, whoich left us priceless archive film of some of his best songs.