Acoustic Blues Guitar Video Lesson Preview -
Weeping Willow by Blind Boy Fuller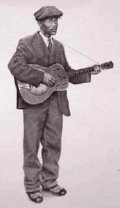 Weeping Willow performed here by Blind Boy fuller is an interesting piece that gets the South Carolina Piedmont ragtime guitar treatment.
Like many old blues men,
Fuller adapted many old traditional standards that originally came from Europe and gave them a makeover of romantic sounding blues, made even more wistful by the use of minor chords - a common trick used by musicians wanting to give a song that sad feel.

It's basically in the key of A and starts off with a long A
(forefinger bar on the second fret and the pinky on the high E at the fifth fret), but next moves to Dm rather than the usual D7, while at the same time a two string alternating bass pattern anchors the melody.
The song is fairly standard stuff throughout until we get to the end tag
of the verse and the turnaround. This is where he slips in progressions that are immediately recognizable as originating from
Reverend Gary Davis
, who tutored Fuller for a while.
The end tag progressions goes E7-D7-F-E7 and the thumb jumps in an off time across the bass strings, rather then keeping a regular rhythm.
He finishes off with a flourish using the long A
and then again back again to E7. There are a couple of instrumental breaks in this song, which was again a trade mark characteristic of
Carolina blues
music. The runs are inventive and slightly different each time, which adds interest for the listener.
I always associate this song with his other well known make over
Careless Love
, although structurally it's not the same at all - it's just the feel that is very similar, an old standard making us of minor chords to give the feeling of sadness.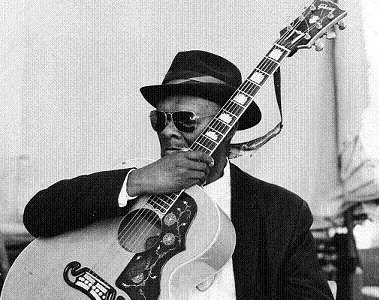 Strangely enough, although Fuller was a student of Gary Davis
, he was much more popular in his day and made over a hundred records for Paramount. It seems that Davis thought that Fuller could have been one of the greats if he's stayed under him a little longer.
He was very good as it was, but he didn't have the extensive repertoire
and rich musical variety that Davis displayed. the story goes that Davis, Fuller and
Bull City Red
played together on the streets and later recorded in the studio, but Davis had a dispute about money with the studio owners and left, preferring to work by himself.
Later on he became an ordained ministe
r and sang
gospel music
exclusively on the streets of Harlem where he lived. Another guitarist,
Floyd Council
, with an almost identical style to Fuller also played on some of his recordings - it was quite rare for Fuller to let himself be accompanied by another guitar player, so he must have rated Council highly.
Some of Fuller's ragtime work (Step It Up and Go, Truckin' Little Baby) endure as some of the best ragtime blues songs ever recorded.
His guitar finger picking was fast and very accurate. Even in the later part of his career, when his voice obviously suffered from his alcoholism, his guitar work was impeccable, never missing a note. Naturally for someone so prolific, he often repeated himself musically, just singing new words to standard chord progressions.
This was quite common amongst blues men
and his career didn't seem to suffer from it too much. His music was a force up into the forties, when the hard driving Chicago blues started to become electric and audiences preferences changed form folksie to city blues with an edge.