Acoustic Blues Guitar Video Lesson Preview - Hey, Hey by Big Bill Broonzy.

Although the style of Big Bill Broonzy's swinging guitar style has some points in common with many blues men, the differences make it very special indeed.
Hey Hey is the perfect example of this - apart from his thumping bass swing technique, he uses riffs and chord shapes that I haven't found in any other blues guitar player's repertoire, which is particularly interesting because it means that Big Bill created the progressions and the distinct sound.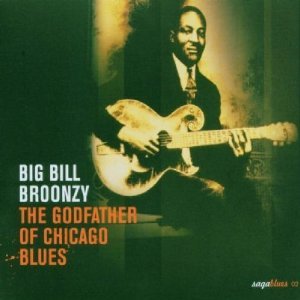 Broonzy was very popular in the 20s and 30s, putting out hundreds of records for various record companies (Paramount,Vocalion, Chess, Verve, and Folkways) and wrote around 300 songs. Some of his songs were truly unique and became blues standards, such as Key to the Highway and Romance With No Finance.

Of course, with over 300 songs under his belt, many of them were almost straight copies of his previous work, or thinly disguised covers of traditional blues, but his style was extended to cover swing blues fronting an orchestra, to ragtime breakdowns, to simple folk ballads and stories.
His swinging guitar style actually fused blues guitar with a jazzy influence ...
... and was to influence up and coming youngsters such as Muddy Waters in their change over to electric Chicago blues. Imagine what Bill could have produced if electric guitars were available in his day! Broonzy was the link between rural acoustic blues guitar and the hard driving electric blues guitar - his own style was mostly dance music and his thumb provided the rhythm.
Many people play Hey Hey with Broonzy's characteristic monotonic thumb stroke pattern (Clapton, et al) but it's mostly hit too cleanly. His proper technique was his thumb brushing across two or three bass notes - quite a tough thing to do while the fingers are plucking the treble strings.

This produced a lag in the timing and also a fuller sound. Sometimes he would damp the strings hard with the palm of his picking hand, and sometimes not - often he wouldn't bother to even fret the bass notes of a chord. The result was a heavy 'thud' rather than a clear musical note which took the place of a drum beat.
This blues guitar monotonic thumb pattern probably came about in the early 1900's.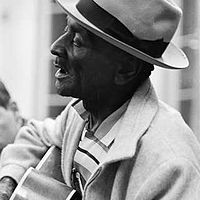 At that time in the Southern states, drums were made illegal for black folk, and so a heavy guitar thumb beat took it's place. It was also less complicated to play, so more effort could be place on making an interesting melody with the fingers on the treble strings.

Some blues guitar men, such as Mance Lipscombe, took the monotonic bass style even further - for example in Gong Down Slow he frets no basses at all, but it sounds just great!
Hey Hey is played in E but doesn't follow the standard chord progressions for a blues song in E, just one of the things that makes it so exciting and interesting.

The first thing that strikes you is that the sound is so big! Even when we play the right notes and fret the same strings in the right place, it doesn't sound quite like Bill's rendition. Worse still it's not really possible to describe how he did it.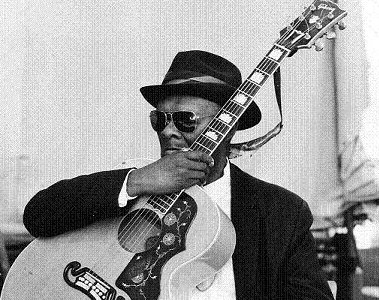 Normally, I learn a Broonzy song and then practice by playing along to his original version. A common mistake is to play Broonzy just too fast. his music seems to go at a fast pace, but it's just his swingy technique.

One way to keep the pace down is to try and play it just like he did, which is with one finger. Many guitarists played in this way (Rev Gary Davis,Doc Watson, Lightnin Hopkins,Johhny Shines).

It's tough to get the forefinger moving fast enough, but when you succeed it gives the music a particular flavor that just can't be achieved when using two or three fingers. It gets just too 'pretty' and clean.
Play it heavy and hard.
Don't worry if you miss notes here and there, but make sure it swings!