Want To Play Authentic Blues Guitar - What's It Mean?
Son House once quipped that some people " ... strum some kinda shuffle in E and call it the blues - well it ain't !" When asked by someone " What are the blues?", Big Bill Broonzy answered "If you've got to ask you'll never know" How did the legendary blues men create that wonderful music? How can we play authentic blues - 'the real deal' ? In this article I'm going to examine a few old blues men's techniques and how we can approach these picking techniques.
Ragtime and Blues Guitar

- From The Roots -

Blind Arthur Blake

I always found it a bit u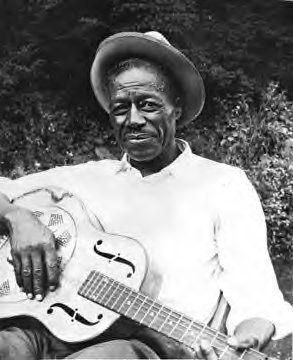 nusual that there exists only one photograph of
Arthur Blake
, the King of Ragtime Blues . He produced more than 100 sides for Paramount throughout his short lifetime and was very popular. You would think that other photos must have been taken ? Even legendary Robert Johnson had two pictures taken and , in his time, he seemed less successful and famous than Blake.

I suppose I'm a little annoyed about it all . Wouldn't it be be wonderful if some old photos were uncovered showing Johnson or Blake playing in a bar or elsewhere . Then we could actually see how they produced those wonderful sounds.

Ry Cooder says he thinks Blake played with a light touch, but other sources related that he developed a hole in his picking thumb, indicating that he played hard . On at least one song he exclaims 'boot that thang ' - this also pointed to the fact that he may have had a heavy touch. I've experimented performing Blake in many ways , using a light and heavy approach on different gauge strings, raising or lowering the height of the guitar bridge to suit . It's really tricky to copy the playfulness of some of his songs in G, such as That'll Never Happen No More and Too Tight Blues.
A Bit Of Broonzy Blues Does You Good !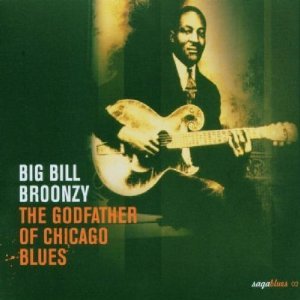 Listen to Big Bill Broonzy's guitar style , as an example - it's quite easy to decide where our fretting and right fingers should be , but that very infectious swinging rhythm is another thing entirely! It's very nearly magical . Here's a quote from Broonzy concerning timing - " you can either ride the front of the horse , or on back of it and that's what I do when I play my guitar". The picking thumb rhythm follows a little behind the beat and creates a 'swing' feel . Easy to describe , but attempt to play it! At the same time , he's using only one finger on the treble strings to lay down some syncopation.

How Can We Learn To
Play The Blues

?

The answer is always from a guitarist who can play it. There is a massive amount of guitar tuition packages for sale on the internet , with various styles and price tags . Many can be found for free. ( A word of warning here - mostly in life, you get what you pay for .) Very often , the courses on offer don't match up to expectations . Sometimes the picking doesn't quite match the tabs ! Some lessons offer riffs or tips to give your playing that 'bluesy feel ', but is it the blues?

Find a guitarist who can really play this stuff . Look locally, or search the internet . After you've found this man , ask him if he would teach you . If he doesn't give lessons then listen to him and follow him around , if you need to . Like most things in this life , if you want it enough , you have to chase it. Most real blues men are not interested in asking a fortune for their lessons .

Don't listen to too many modern blues men . The old styles can become diluted and adapted too much , particularly that great timing and syncopation . DO listen to as many old blues guitar records as you can, particularly if there is video of the man performing . For example , you get an awful lot from just watching Big Bill Broonzy perform Hey Hey repeatedly.

Obviously, practice as much as you can - specially the basic picking patterns . Control that picking thumb! Try one hour early morning and then again in the evening is minimum . You don't suppose Robert Johnson sold his spirit to the Devil do you? Of course not , just like Clapton , he tucked himself away for a year or two until he could play with the dexterity we can evidently hear from his old records .

For me this is essential - when you play blues , BE that piece you are performing or that person who sang the original . Their lives were hard and very unlike ours. That said , we all get the blues now and again and that's how we can relate to those artists . The blues feeling is all of these - an old love , losing your job, bad kids, rainy weather , mortality and many other things . Bring it to life it with your guitar .

Get the techniques first of all , don't take shortcuts with the basic building blocks and last but not least , put your soul into blues music . Enjoy the video of Lightnin' Hopkins below to find out how it should be done .