Acoustic Blues Guitar - Does Size Matter?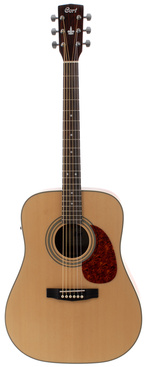 Martin Guitars have of course got a great name for very good reasons
- just strum the bass E and a top range model and you'll see why. The sound is rich and the sustain (the length of time the note can be heard before it decays) just goes on and on.
I could never afford very good guitars, being basically a street singer, so I was always intrigued and dreamed of owning a top range Martin guitar. Mind you, I wasn't too fussed, as my playing style is a bit hard and often I use a steel finger to act as natural amplifier - no subtlety there, I'm afraid!
This inevitably causes my strings to buzz and whine with a normal action, so a great guitar would be wasted on me. I also use an
amplifier
, so the acoustics don't really mean much in those conditions.
Which Size Guitar Is Good For You?
However, when a friend of mine took me to see an acquaintance who owned 5 different very top range models, I was definitely intrigued, so off I went to England. I don't remember the models, but they were various sized bodies and I was a bit afraid of 'dinking' them, as I'm not too careful with my instruments sometimes, each one was minimum $3000!
I tried them all one after the other, and I settled on one that I quite liked. The incredible thing is this - I didn't like most of them! Oh, they looked great and all, but I just wasn't comfortable with them. I think I was just so used to hitting guitar hard that I wasn't playing them in the right way. While it's true that the basses on the dreadnought sizes and the bigger bodied guitars were phenomenal, I always favor smaller bodies for my predominantly
ragtime blues
picking style.
Small Body Guitars Are Great For Ragtime Blues
My first guitar was a small Yamaha and very, very cheap (less than $100), which I used to play on the street and in the metro in London (c1976). It made a lot of noise and it was very well made. In fact, I've owned about 3 Yammies and like them a lot. My brother in law has an expensive model, which he favors over his other guitars.
The biggest problem with the parlor size, or 000 body size, which I prefer to play, is that the sound a bit 'tinny' - one way round this is buy a Martin 000, as the acoustics tend to make up for the small body size and the basses ring out, while the treble strings don't ring too much. Of course, with an amplifier the sound can be balanced quite well. The
Martin 000x1
is an interesting guitar because it's not made of wood! Well, not all of it anyway.
Quality Acoustic Guitar Construction
The top is spruce, but the neck, sides and back are synthetic (Martin don't say exactly what it is). Now the purest might just turn up his nose at this, but I get many comments about the sound of the guitar I play and people are simply amazed i tell them it's not of wooden construction. I bought mine from Thomman in France and it arrived playable straight out of the box. The technicians set them up before shipping and they do a great job. One thing about this guitar though - due to the synthetic construction and like a plywood top guitar, it won't improve with age.

I have a jumbo sized bodied guitar build by Aria and designed by Johhny Joyce. It just gets better and better, but the neck is a bit thick for fast and comfortable playing. The basses are something else though.
Aria JJ Model (6 String)
The Novelty Guitar To Kill For
The great thing about the guitar world is that you can't take anything for granted and there are always a few gems waiting to be discovered. For example, some time ago Gretsch produced a novelty guitar for $70 called the Americana. there were 4 in the series and came with pictures of camp fires, cows and flying saucers.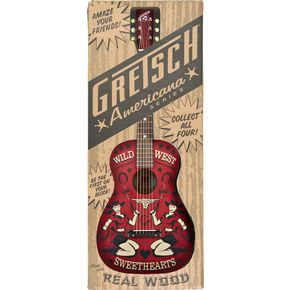 The idea was that these novelty guitar could be hung on the wall and be a taking piece, or maybe taken to the camp fire on vacation, as they were not too expensive. The amazing thing was that these were made of solid wood, featured standard
Gretsch
construction and had good machine heads. In short, they sound great and have now become collectors pieces - if you can get one!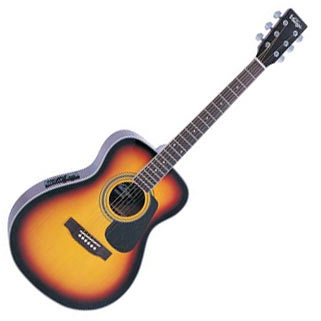 Another fine instrument in the parlor category comes from
Vintage - the VE300
.
This guitar was voted 'best under $1000' and is a very fine instrument for not a lot of money. I played one on the street for several months. The only thing was that when played acoustically, it doesn't have the basses that the
Martin 000x1
has, so I replaced it with that.