The
Complete Acoustic Blues Guitar Course ...

... features a series of detailed lessons on video complete with all guitar tabs, which will show you how to play acoustic blues guitar in finger style, ragtime blues Piedmont ragtime and bottleneck guitar, in the style of the classic blues legends like Blind Blake, Big Bill Broonzy, and Robert Johnson. 
Each lessons video in the pack shows how to play blues guitar by concentrating on a classic song in a particular style, presenting it piece by piece, then showing how to put those parts together.

Guitar  Instructor and Course Author
Jim Bruce
is a well respected and established performer in the
ragtime and blues
styles, having released several albums up to press. He also spends a lot of time playing blues guitar on the streets and in the bars in Europe, and so has years of practice when teaching the blues. 
Jim holds live classes mostly in Europe, where he has settled, but is always on the lookout for opportunities to spread his skill - watch out for
blues guitar lessons
in your town in the months to come!
He shares his experience throughout the course - for example, in the lessons for 'Key To The Highway', Jim shows us the 'regular' & 'street' versions of this song, with the 'street' version being aimed towards performing live. This is a wonderful way to approach
learning the blues on guitar.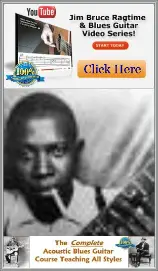 The lesson pack features thirty six high quality Windows or Mac video files on data-disk, together with PDF files of the full tablature to print out. 
 Each video is a complete detailed lesson on learning a particular blues or ragtime song, for example 'Key To The Highway' (Big Bill Broonzy), or
'Crossroads' (Robert Johnson).
The data-disk format is employed because more than eleven hours of teaching material can be fitted onto one. 
Simply slot the data-disk in your disk drive, click on a song title and view it like an ordinary video.
Also, right after payment, a link is provided for instant download, so that you can download some or all while waiting for the mail man to deliver your disk.


Course Details - What Do We Get in the 'Acoustic Blues Guitar Lessons Course'?
The individual video begins with Jim playing a complete song, at the right tempo. This is great to see, but it can feel a bit unsettling, as you know you'll soon be trying to play the same song! 




Then the instruction starts, as Jim splits the song right down into tiny, playable parts that you can practice in your daily sessions. Additionally, he slows his hand movements right down, which makes it quite easy to follow the flow.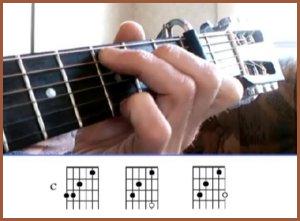 In the appropriate parts of the lesson, the tablature or chord diagrams appear on the screen, which makes a simple matter to follow.
One aspect that can be hard when you're starting to
play blues guitar
, is coordinating the finger action of your right hand, with moving through and playing the right with your left. 
In these lesson videos, we see close ups of both hands, so it can be clearly seen what's going on.
The different parts are then added together, and you can quickly advance towards playing more complete parts of the song.In some of the lessons (for example Walkin' Blues), Jim additionally teaches how to
play bottleneck or slide guitar
, which is the foundation of one of an important classic 'blues' sound. 
The video parts for this are explicit, with nice close shots, and Jim offers some valuable advice on how to best handle the bottleneck, for example, how to damp the unwanted noise with the fretting hand, which is an important skill to learn if you want to get the cleanest
bottleneck guitar
sound.
The bottleneck guitar songs featured use a different, and Jim shows clearly how to tune each string, before we start the tuition. Like the other videos, the tablature is displayed in the bottom third of the screen, showing where to employ the bottleneck.
There are useful tips on singing lyrics while picking. Jim takes a single line from the verses, and explains how the words fit with the music. This is great advice, as it's one matter to be able to
play the guitar
part by itself, and something else entirely to play and sing together. 
Just reading the lyrics isn't usually sufficient to work out precisely when to start singing, so having this explained like this is a great help.
Support
Support for the course is by direct email, and I've always found Jim to respond quickly when I've had a question.
'The
Acoustic Blues Course

' - Our Conclusions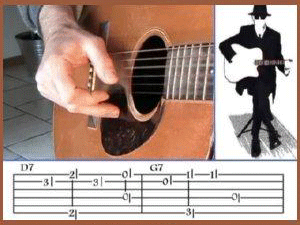 I found the course to be an effective and accessible way to learn how to
play blues guitar
.
I liked the way in which every lesson is entirely focused on learning one specific song, so that after studying all of the lessons, you finish up with a complete range of classics for your song list, in addition to a great variety of picking styles and riffs that you can add into some of your other songs. 
Blues guitar lessons
should impart the skills to perform a complete song, and this pack of lessons does precisely that.
To learn to play songs in this genre of
guitar playing
, I think it's vital to understand how it should sound when performed, before being taught the parts, and this is what you get with these lessons, with Jim playing the song at the beginning, so you can appreciate what you need to progress towards. 
I thought that the process of dividing the tune into little parts, and played in slow motion, made it easy to work on sections of the song in one practice session, before putting the parts together.

There are many close up shots of both hands on the videos, which helps to perfect each part. I found the close up shots of the left hand very effective, as just seeing the tablature or chord diagrams for a song doesn't really give sufficient information for learning more complex parts of a song. 
 Examining the fretting hand up close several times really helped in this respect.Additionally, I enjoyed watching the 'street' version of Key To The Highway, when Jim shares his experience of performing the song live. 
It's great to learn the 'regular' version, but really informative to understand how to adjust the style into the 'street' version to lend your picking some more impact when playing in front of an audience.
If you have knowledge of basic chords, and you want to get into
learning finger picking blues guitar
and bottleneck
acoustic guitar,
then I can definitely recommend the course. 
You will learn how to perform
classic blues
which can't help but develop your skills as a guitar player, and these can also be very exciting sounding songs to play to people if someone asks you to play something. I'm very impressed with the instant download feature, which gives instant access while waiting for disk delivery by mail.
Author: Jim Bruce 
Date: 2014-11-07
Category: Music
Blues Guitar - Acoustic Lessons On The Internet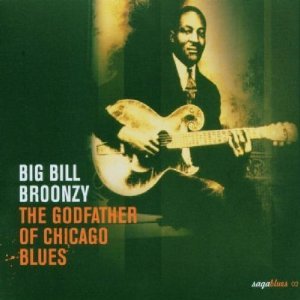 I submitted the following phrase into Google -
blues guitar lessons
for my own town - and it returned with a couple of million results. 
It's true that it's an obvious opening shot to attempt to locate a
blues guitar teacher
locally who can teach you face to face, but there can be problems. You cant' be sure how good the instructor may be. 
On the other hand, if he is (or was) the best in his profession, he might be quite expensive - I'll leave you to imagine what a big rate will do to your pocket book it can be pretty expensive learning
how to play blues guitar
.
Many people are purchasing blues guitar lessons from the web (even though they might be looking for
blues guitar lessons locally
) and without doubt this raises other issues, not least the truth that there are many lesson packages to choose from.
Acoustic Guitar Lessons Online
The 'Complete Acoustic Blues Guitar Course' is taking the guitar lessons world by storm and is rapidly becoming the standard to reach for acoustic guitar instruction. The author is a working blues man, always playing the blues in the bars and on the streets of France. 
His
guitar tuition videos
feature the classic blues men, like
Big Bill Broonzy, Lightnin' Hopkins, Robert Johnson and Blind Blake
, amongst others. The range of in style and skill level is very impressive. Read the independent review that follows to see if this way of teaching may be good for you - it's good for hundreds of others, pros and amateurs alike.